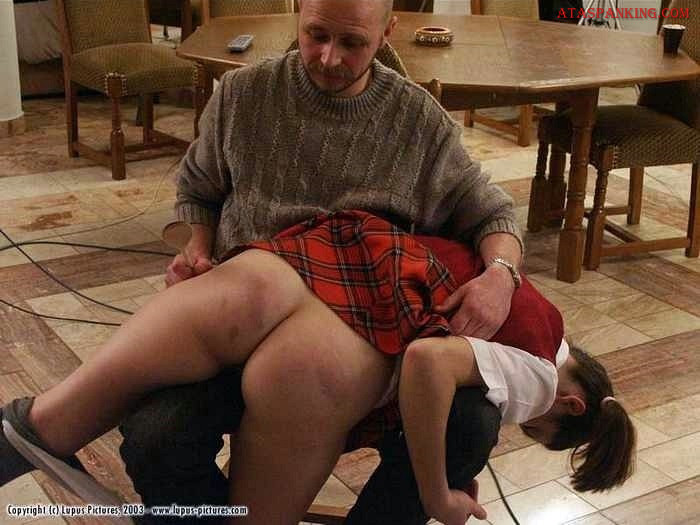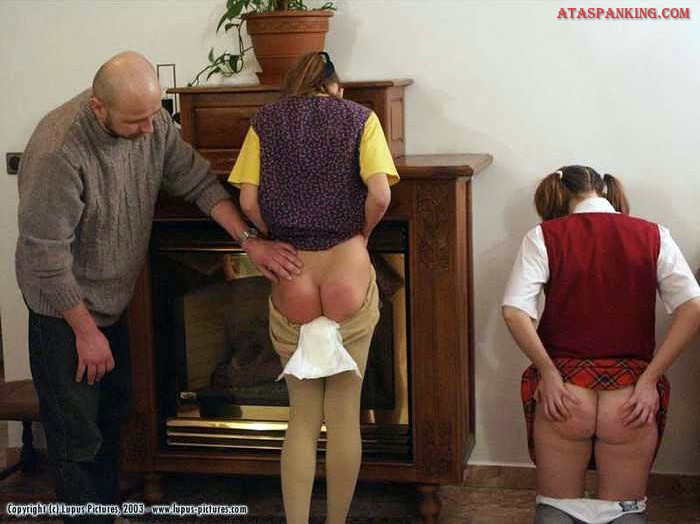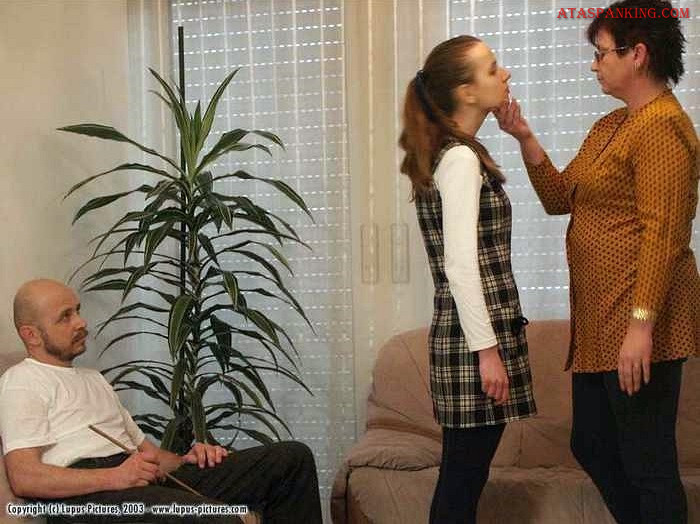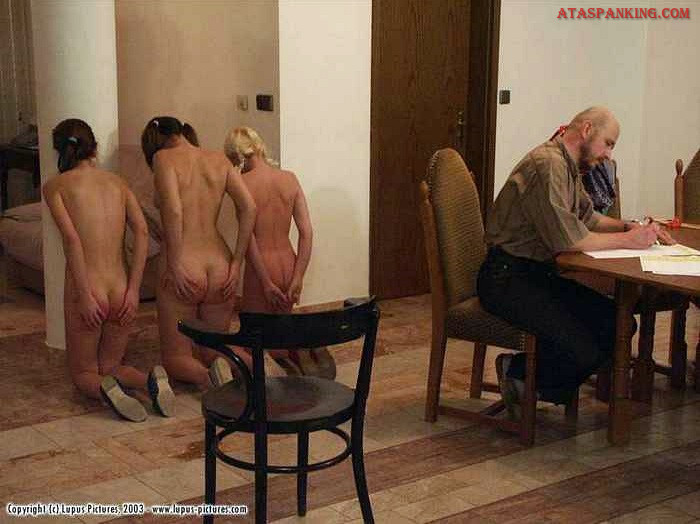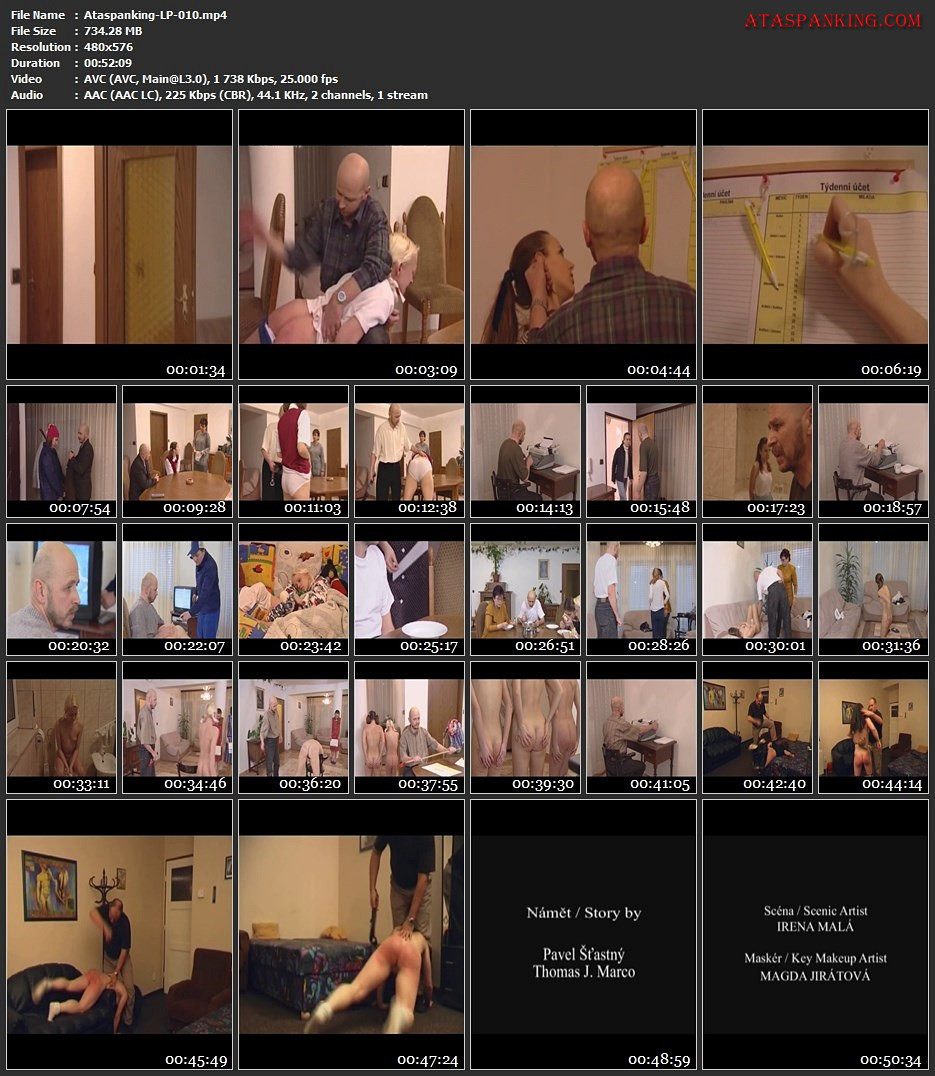 This time, Lupus Pictures productions will take you to a family environment. Our viewers have well accustomed to the idea that daughters being punished are one of the most lovable topics for any discerning connoisseur of spanking. This story will however bring you much more – never before were so many individual spanking-related attributes incorporated in one film. Do you like white socks? Girls' panties? Or do you prefer old gym knickers, or diapers, or do you like the sight of the girls recording their faults only to see them converted to painful butt-punishing strokes at the end of the week? You will see it all in the movie – and get ready for even more.
We will spend a week in a family with three daughters; the parents believe that who spares the rod, spoils the child, and correct their daughters by strict discipline. The mother is a plain woman who cares only for the household, while the father writes popular novels for women. See the difference between his novels and real life!
The tools used for punishment are employed every day. He uses many of them. One day, he sends one of the girls for fresh swishes – so as to prevent the girls from getting used to the cane, kitchen beater or hand. He is also inventive – for example, he applies a leather strap over Pavla's wet knickers after he learns how much she lags in the school. Hairbrush is very popular as well. It comes really naturally to hand when Stana is taking a shower in the bathroom.
A strict parent does not hesitate and punishes the girls even in front of strangers. Anyway, he has no reason to shame. And the disgrace felt by the girls will surely benefit the girls, strengthening the desired effects of strict discipline!
A cane, of course, is extraordinarily important. Each girl has her own cane, as well her own record of faults; all three girls accumulate marks over the week according to their father's instructions. In the end of the week, a well-known ritual takes place. The girls approach their father with their records; he sums the marks, unbiased. Each girl has to strip. Our camera follows the girls, who have to pee before the caning to prevent them from making a mess during the process. Only then they can come to the kitchen desk and receive their painful treatment. Cane falls down mercilessly on their butts and makes a strip after a strip. After the caning, the girls kiss their father's hand and have to kneel until the evening. Saturday is the same every week in this family. Will there be any Saturday without a punished girl kneeling?
The father completes his other work in front of the kneeling and panting girls. The end of the movie?
Absolutely not – there is a big surprise underway and seven more minutes of the film – but we will not spoil the surprise! You will see another spanking. Maybe one you've never seen before. And only then you can contentedly turn off your video – to open the web site of Lupus Pictures as soon as possible. You will find the best gems for lovers of spanking stories there. Everyone will choose his favorite one
File Name : Ataspanking-LP-010.mp4
File Size : 734.28 MB
Resolution : 480×576
Duration : 00:52:09
Video : AVC (AVC), 1 738 Kbps, 25.000 fps
Audio : AAC (AAC LC), 225 Kbps (CBR), 44.1 KHz, 2 channels, 1 stream
https://file.al/ria1uj68hv3i/Ataspanking-LP-010.zip.html?referer=ataspanking.com