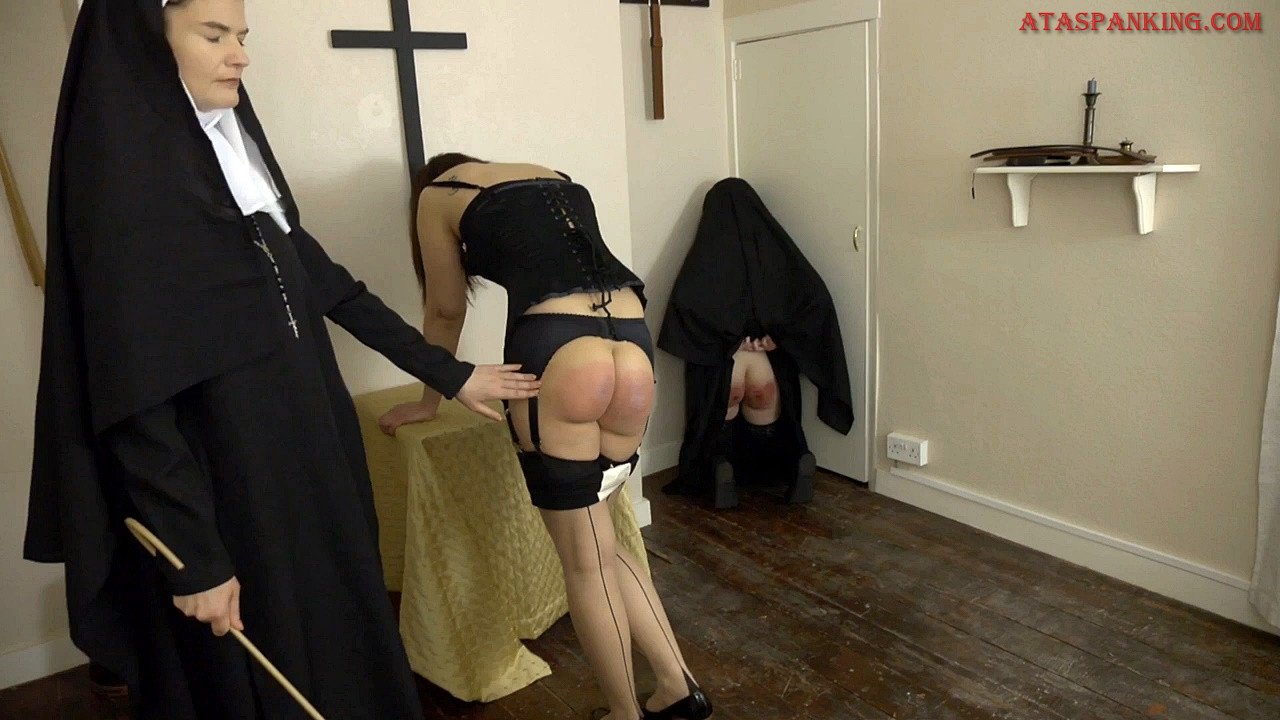 Discipline is strict at the Convent for Lost Causes, as young Sister Maria finds to her cost. She falls foul of the Mother Superior, who straps her on the hands, and then finds herself bent over for a much more severe dose of the strap from Sister Clara, soft-spoken and implacable. She has to raise her habit to bare a lily-white bottom, framed by surprisingly racy stockings. Sister Clara wields a mean strap, and soon that lily-white bottom is sore and bruised.
Worse is to come for Sister Maria as, after kneeling in the corner with her reddened n bottom exposed, she is subjected to caning from Sister Clara, egged on in her duties by the Mother Superior. A whippy cane is followed by a thicker cane, which leaves the young novice's bottom flecked with blood. They clearly take discipline seriously at this old-fashioned convent.
The local jail is full, so a young prostitute from the local brothel, clad is suitably saucy lingerie, is sent to the Convent for Lost Causes for corrective treatment. This consists of a thorough strapping from the pious Sister Clara. Some great spanking action, with the reddened bottom of an earlier victim in the background.
It is bad enough that the prostitute who has been sent to the Convent for Lost Causes has to be submit to being called a whore and having her bare bottom strapped raw. But a bad day becomes ten times worse when Sister Clara reaches for her cane. The clip ends with two miscreants being caned side by side. Great spanking footage, and the religious music in the background only adds to the atmosphere.
Lady Fortescue Smythe, Miss Mathews
File Name : Saints And Sinners.mp4
File Size : 1038.28 MB
Resolution : 1280×720
Duration : 00:38:16
Video : AVC, 3 560 kb/s, 25.000 FPS
Audio : AAC, 225 kb/s (VBR), 44.1 kHz, 2 channels, 1 stream
http://95.215.205.103/29945a6563c40312/Saints_And_Sinners.mp4