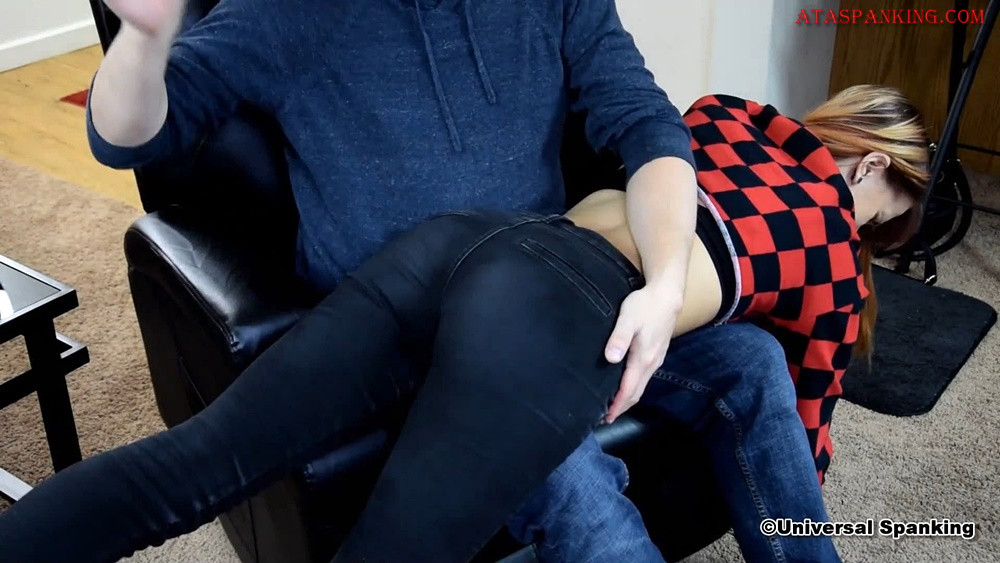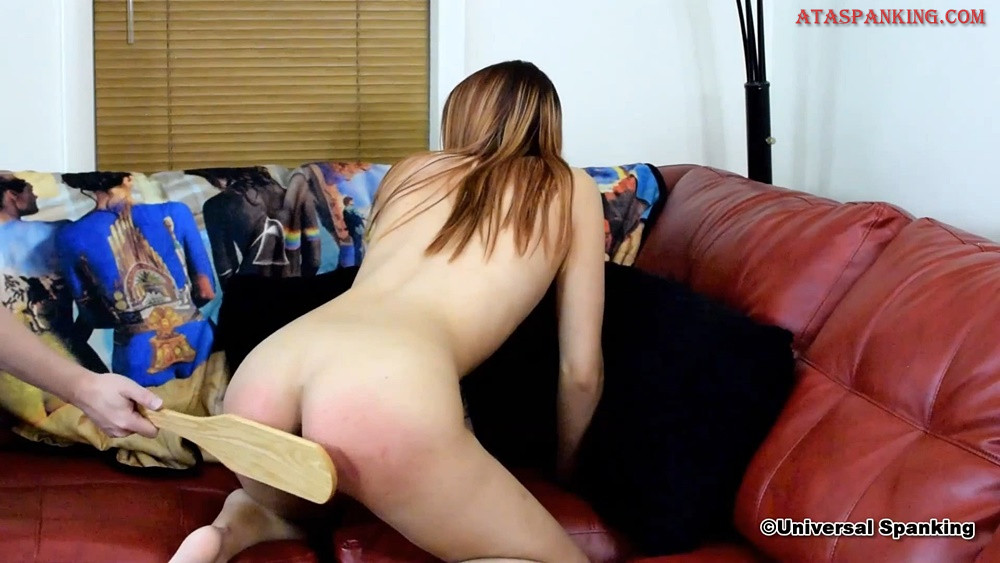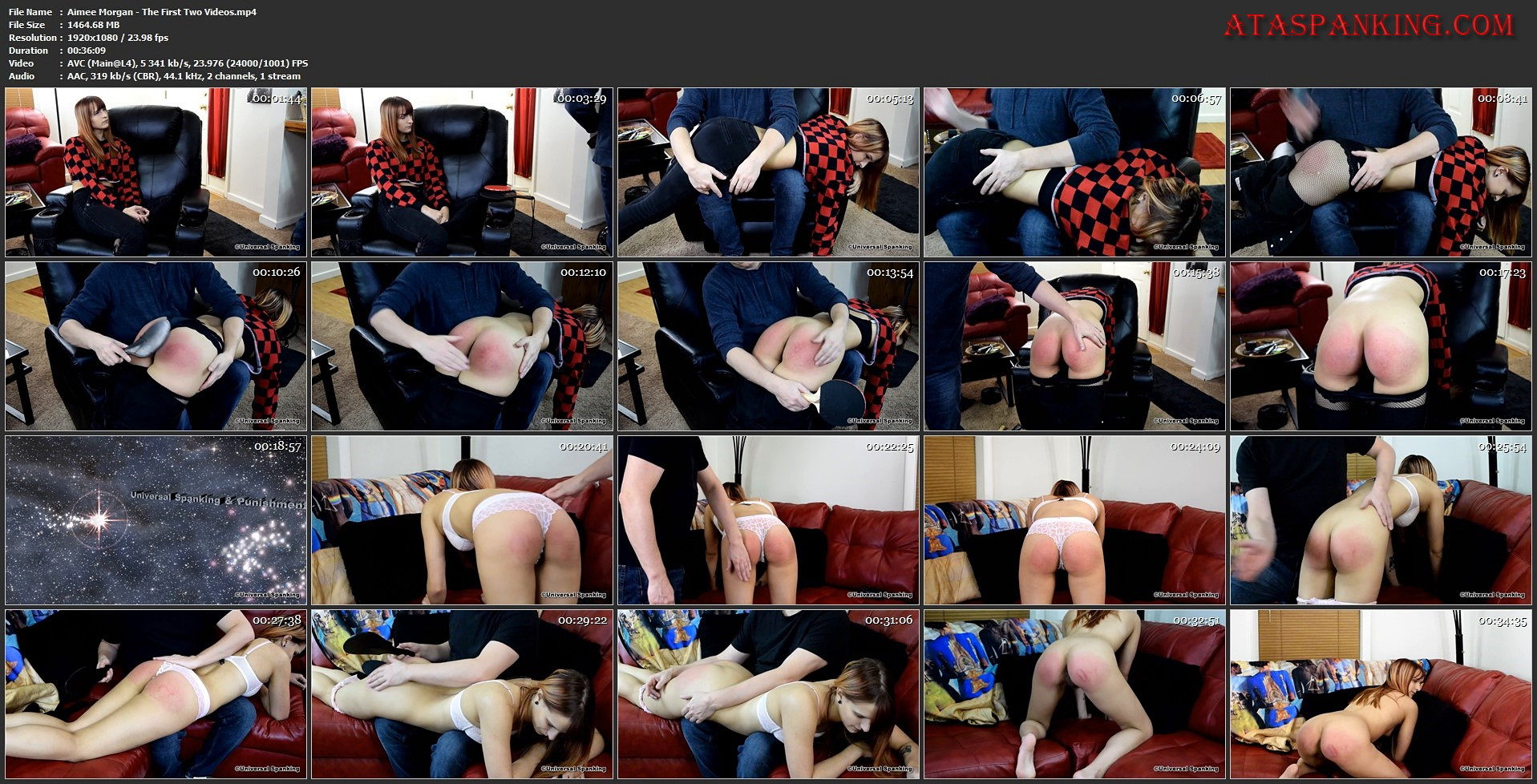 This is a collection of the first two videos ("Lying Will Have You Crying" and "Bent Over By My Boyfriend" featuring Aimee Morgan. The stories go together and we've made sure to give a nice price for the pair:)
One of the worst things that a girl can do is lie, it doesn't benefit anyone in the long term, and such an action will almost certainly lead to punishment (as we learn in "Lying Will Have You Crying"). Well, we introduce you to Aimee Morgan, she was recently spanked for lying and other offenses, and we're going to show you exactly what happened!
Aimee stayed at her friend's house (Ashley Hescott) not too long ago and instead of just having a fun evening with her buddy, she instead begged Ashley to let her sneak in a boy. Not only was this wrong, but Aimee was already dating a nice guy, which made the situation even worse. Ashley felt guilty about the whole situation and she confessed to her Step-Father, and in turn he went to visit Aimee to find out the truth.
Our story starts out here, with Mr. Hescott confronting Aimee, at first she lies about the situation and that was her biggest mistake! Eventually she admits to what she did, and Mr. Hescott presents an option for forgiveness, where he won't disclose that she cheated on her boyfriend. He offers her the opportunity to go over his knee for a spanking this one time as a form of redemption. Aimee thinks about it, but she knows that there is no other way out, so she lays her little behind over Mr. Hescott's knee for the first spanking that she's had in a long while!
The spanking starts over her tight jeans with the hand, but soon those pants are pulled down and her cheeks begin to glow red as Mr. Hescott repeatedly slaps her bottom! After the hand, two different paddles are used, first a leather paddle and then a wooden ping pong paddle. Both hurt her a lot, especially when the swats were landing on her bare buns. The punishment really stung, but the embarrassment of being caught in a lie and then having to take punishment from her friend's Step-Dad was just as bad. Mr. Hescott finished off the spanking by having Aimee bend over with her pants and panties down for the belt. It was a traditional way to end the punishment, and one that would have Aimee thinking seriously if she would ever want to lie or cheat again!
In the second video ("Bent Over By My Boyfriend"), Aimee Morgan is cheating on her boyfriend, he doesn't know, but her lies are catching up with her. In her debut videowe learned that she brought a boy into her friend's house and did naughty things with him. Now, her boyfriend wants to know why she's been missing dates lately and not calling back. Aimee's boyfriend confronts her and makes it clear that they're going to be over unless she takes a real spanking from him, apparently it's been the trend in town for boyfriends to spank and punish their girlfriend's when it's needed.
Aimee is instructed to bend over the couch and she does just that. She wants the guilt that she's been holding onto to go away, and she knows deep in her heart that the spanking she's going to take is well deserved. The punishment starts with Aimee in her pretty panties. She's felt a few slaps on her bottom before during sex, but taking a well deserved spanking from her boyfriend is a totally different feeling. Aimee immediately begins to feel remorse and she instinctively has the desire to be obedient. Her boyfriend has been stood up too many times, he's going to be sure that Aimee really feels this so he uses a riding crop on her bottom! Next, Aimee is taken over the knee and her bottom is bared, it's clear that her boyfriend cares about her, though he's not going to put up with the way that she's been treating him any longer!
Aimee had not been over the knee since her Step-Dad spanked her last, a few months before. This spanking was completely different though,…she didn't fight because she wanted to feel like her soul had been cleansed. Two different leather paddles were used over the knee, each stinging her naked bottom and coloring her exposed behind a darker shade of red. The final implement that was used for punishment was a wooden paddle. For this implement Aimee's boyfriend instructs her to stand back up and bend over the couch, she would then obediently remove all of her clothes, presenting herself fully naked for the duration of the spanking. The swats really hurt and before too long Aimee had to kneel on the corner of the couch with her bare bottom sticking out to finish the swats. It's fair to say that Aimee was sorry, in fact she had never loved her boyfriend as much as she did on this day. From there on out Aimee saw a new side of her boyfriend, he was strict and dominant, and she began to expect corporal punishment every time that she messed up,…and she wouldn't ever expect anything less.
File Name : Aimee Morgan – The First Two Videos.mp4
File Size : 1464.68 MB
Resolution : 1920×1080
Duration : 00:36:09
Video : AVC, 5 341 kb/s, 23.976 (24000/1001) FPS
Audio : AAC, 319 kb/s (CBR), 44.1 kHz, 2 channels, 1 stream
http://95.215.205.103/c10ce4f2481ab798/Aimee_Morgan_-_The_First_Two_Videos.mp4