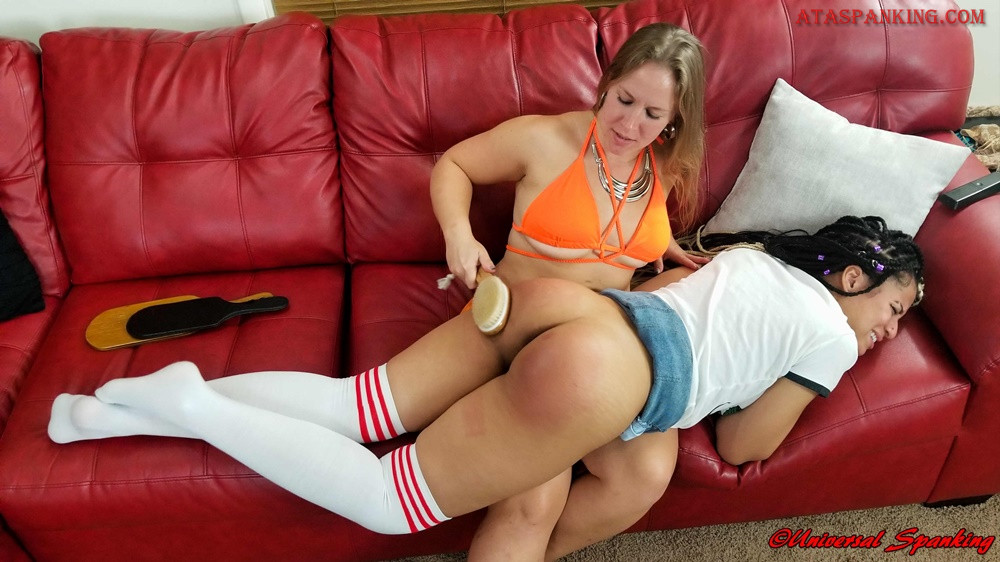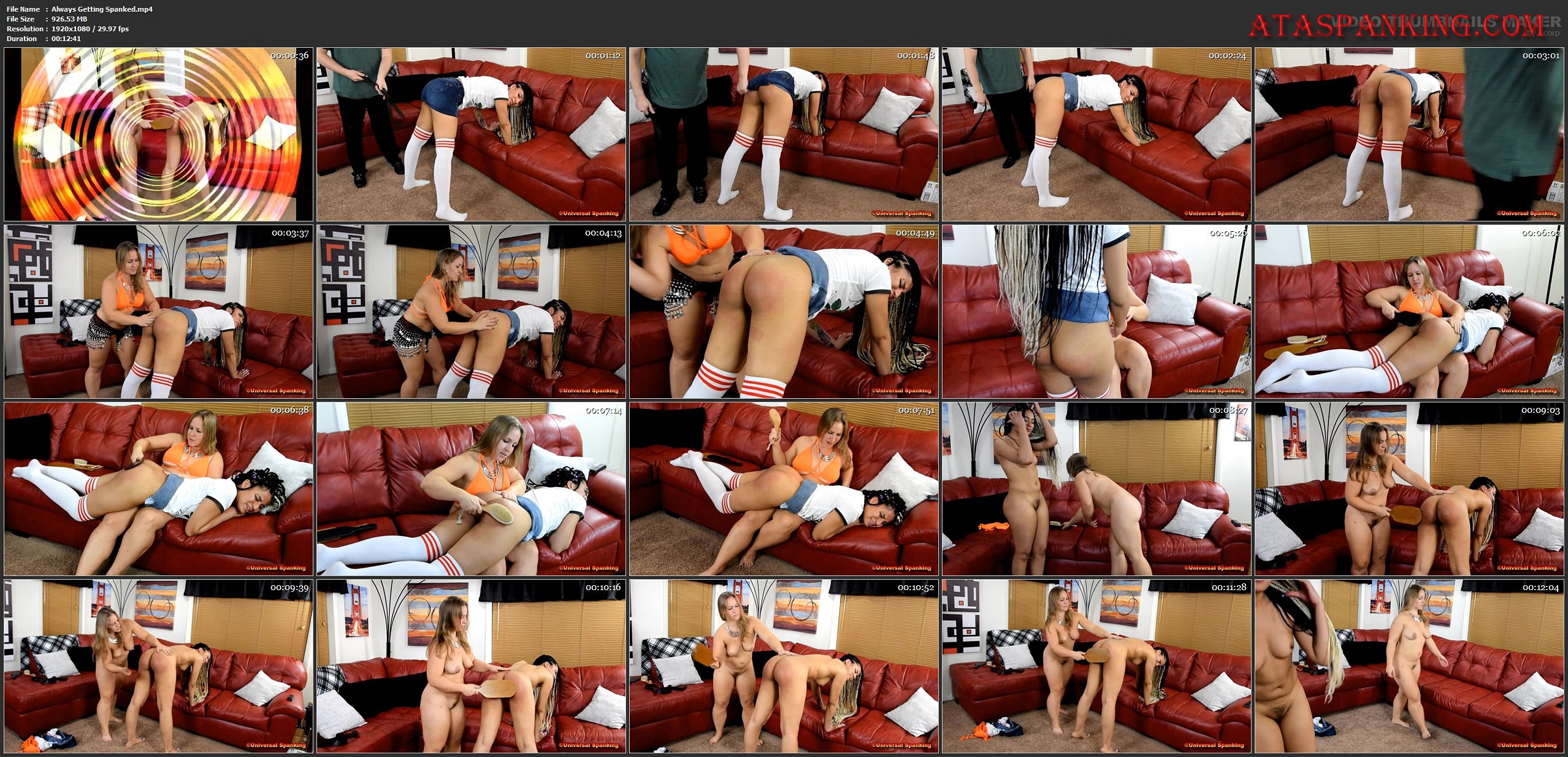 Jayda Blayze was always complaining that she had a sore bottom, that she was spanked too often! However, when you look back at her behavior it was abundantly clear that she deserved each and every lick that was applied to her round bottom. The truth is that Jayda did grow up in a home that believed in corporal punishment and he step-dad never thought twice about taking the belt to her bare behind.
Last week Jayda was in trouble at school, again! She should have expected nothing less than a welted bottom for her lack of judgement. Her step-dad pulled off his belt and he laid into the girl good with that leather until there was a knock at the door. Jayda's step-dad simply couldn't trust her anymore so in walked the babysitter that he'd hired for that evening. Jayda was appalled that her step-dad hired sitter to watch over her, plus she was embarrassed that another girl was looking at her naked and sore bottom. The babysitter (Foxy Tigress) walked in and took a look at the situation and she offered to continue the punishment so Jayda's step dad could be onto an event that evening. Jayda truly felt ashamed at that point, she was going to be spanked by the babysitter!
She was sexy and powerful, the type of authority figure that Jayda felt compelled to obey. Foxie walked right over to Jayda and picked up where her step-dad left off. The young woman had spanked more than her fair share of sassy girls in her time and she knew exactly how to handle Jayda. First, Foxie spanked her with that stern hand of hers, though Jayda would find herself positioned over the knee for even worse punishment. Foxie used a leather paddle and a wooden hairbrush on Jayda's exposed buns and you could see and hear the discomfort coming from that naughty teen. Jayda wouldn't be getting off easy, the babysitter wanted to make sure that it was clear who was the boss of the house when she was around.
Eventually Jayda would be instructed to fully disrobe and shockingly Foxie stripped off all of her clothes as well. Jayda took a slight look and the beautiful young woman and one could see that there was an attraction, she just wished that the beautiful sitter wasn't blistering her butt! Foxie would then deliver a fully naked paddling to Jayda. It's fair to say that Foxie enjoyed her role, she was often asked to deliver discipline when she watched over wayward girls. Jayda on the other hand was completely worn out and sore, she took a lot of swats with the wooden paddle. And when the spanking was over the punishment would still continue! Foxie would require Jayda to get on all fours while she put her feet up on her and browsed through her phone. Jayda felt degraded by the entire situation, but she knew if she complained her step-dad would just dish out another dose of hard discipline. Jayda just had to accept that she had a new sitter that wasn't going to treat her nicely at all.
File Name : Always Getting Spanked.mp4
File Size : 926.53 MB
Resolution : 1920×1080
Duration : 00:12:41
http://95.215.205.103/9d13b1e92d61de7b/Always_Getting_Spanked.mp4