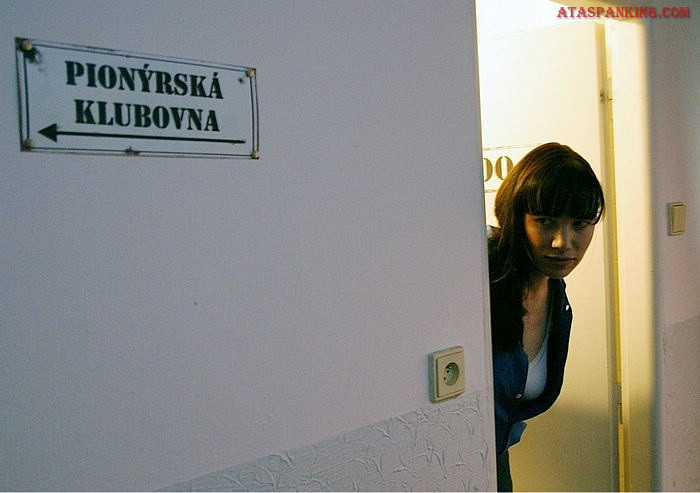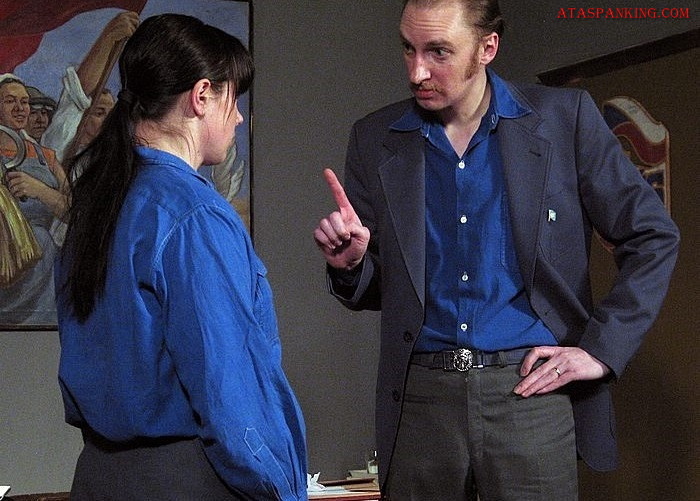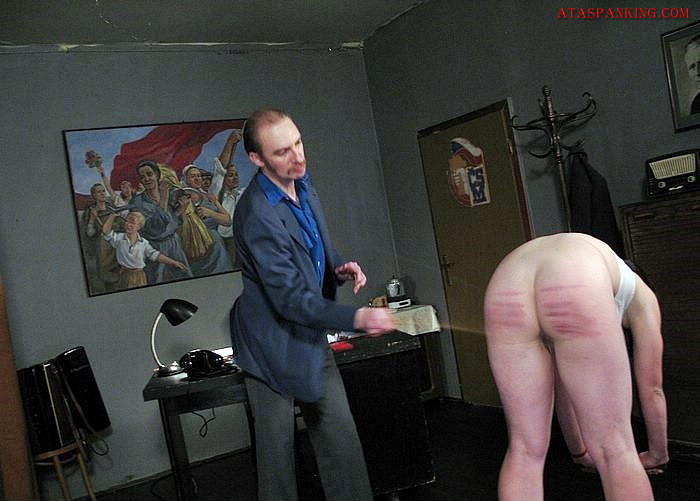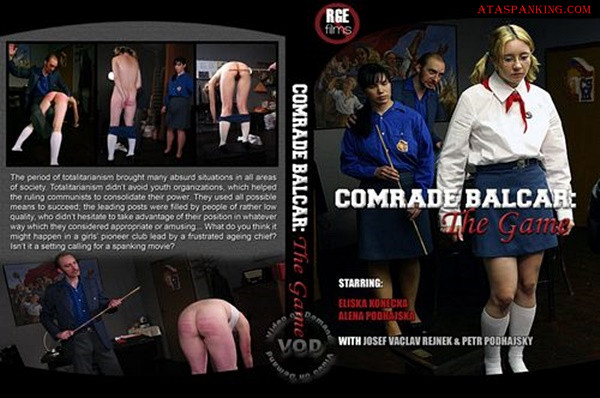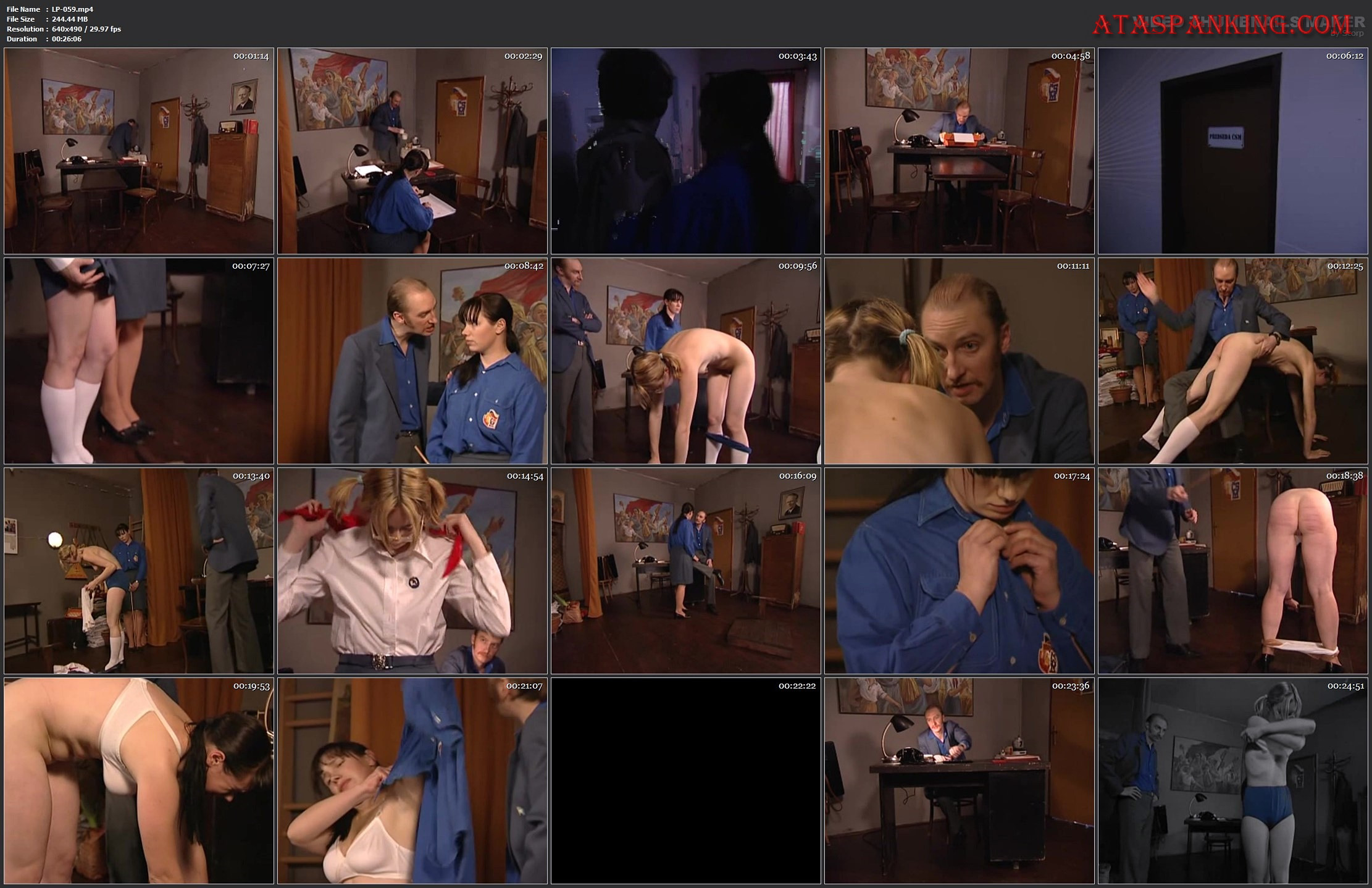 The period of totalitarianism brought many absurd situations in all areas of society. Totalitarianism didn't avoid youth organizations, which helped the ruling communists to consolidate their power. They used all possible means to succeed; the leading posts were filled by people of rather low quality, who didn't hesitate to abuse their position in whatever way which they considered appropriate or amusing…
What do you think it might happen in a girls' pioneer club lead by a frustrated ageing chief? Isn't it a setting calling for a spanking movie?
Of course, it is, and Lupus Pictures company brings its story now.
As we mentioned, Joe Balcar is a man experiencing many unfair situations in his life. As we can judge from a phone call, his role at his family is the opposite of his leading post at work – he is a leader of Czechoslovakian Youth Association, an organization covering all youth movements, including youth pioneers. But his wife doesn't care much – so Joe has to prove his dominancy on younger pioneer chiefs or the girl pioneers.
He courts one of the young chiefs, however, the girl has a boyfriend, who doesn't hesitate to put his head into a lion's mouth for her. So we will witness the youths' sex – where else than in the bathroom? Where else can they hide? Unfortunately, we are not the only ones watching them, also the rejected Joe Balcar is there…
And he won't forgive this, he will surely find an opportunity. Especially when the young chief neglects her work for her pleasures, and the other girls amuse at the meeting as they want.
Joe, very angry, finds a naked girl pioneer in the corridor, who tries to explain it as a kind of pioneer game activity. Suddenly, the young pioneer chief walks in, all excited and untidy after her toilet adventure.
How can this end up?
Surely with a good thrashing in Joe's office.
The first one to go is the girl pioneer. She stands naked, bent forward, and is whipped by her chief. But the beating is a bit too harsh for the young undressed lady; as her bottom gets covered with pink stripes, she can't stand still and accept the punisment she deserves…
And Joe seems to grow unsatisfied. He bends her over his knees and the naked girls gets a proper spanking… Crying, tears…
After the hangdog girl leaves, Joe is prepared for the young chief's turn. How she rejected him, and that sex at a workplace, he can't let her go.
So the pioneer chief has to take off her skirt and underwear and take the same position on the pedestal as the girl before. Such humiliation and shame…
That's only the beginning. Joe is very skillful with the rod, and he also suggests that if the girl doesn't stand still, she will have to confront the authorities – and not only she, but also her whole family. So the girl stands and suffers. She endures a very painful beating on the naked bottom, which is whole cut and bruised. And all humiliated, she has to tidy away the rod…
Yes, our dear fans, you will certainly enjoy this great movie by Lupus Pictures company, and we have one more piece of advice, "Never try to outflank Joe Balcar…!"
DVD contains unedited versions of all spanking scenes shot from different camera angles. These bonuses are for dvd version only!!!
File Name : LP-059.mp4
File Size : 244.44 MB
Resolution : 640×490
Duration : 00:26:06