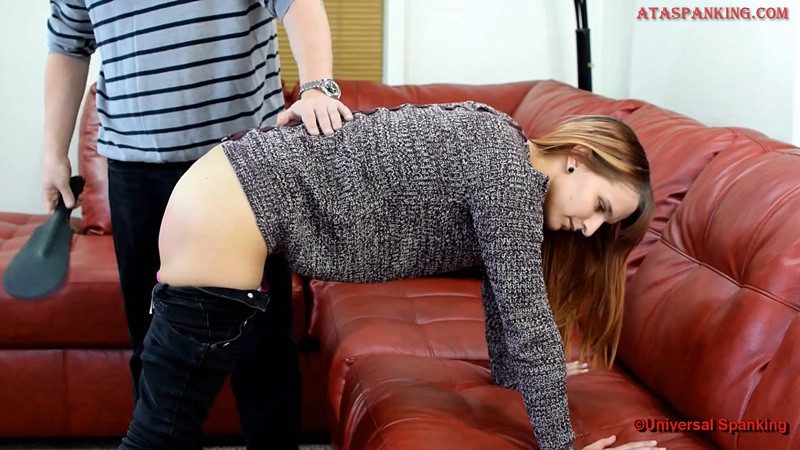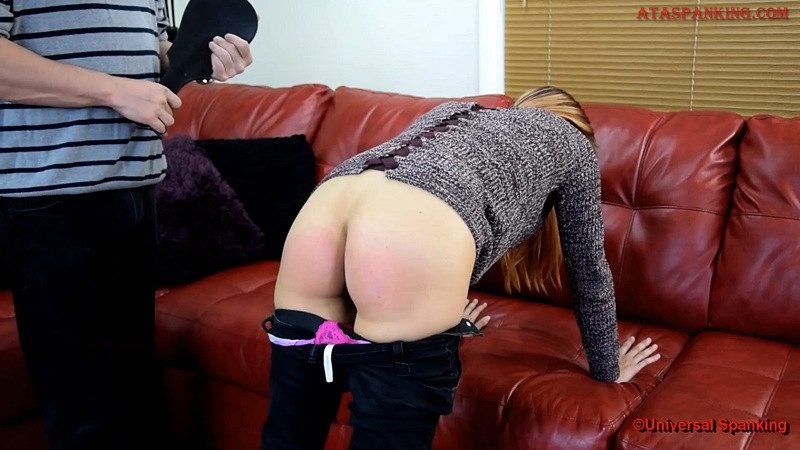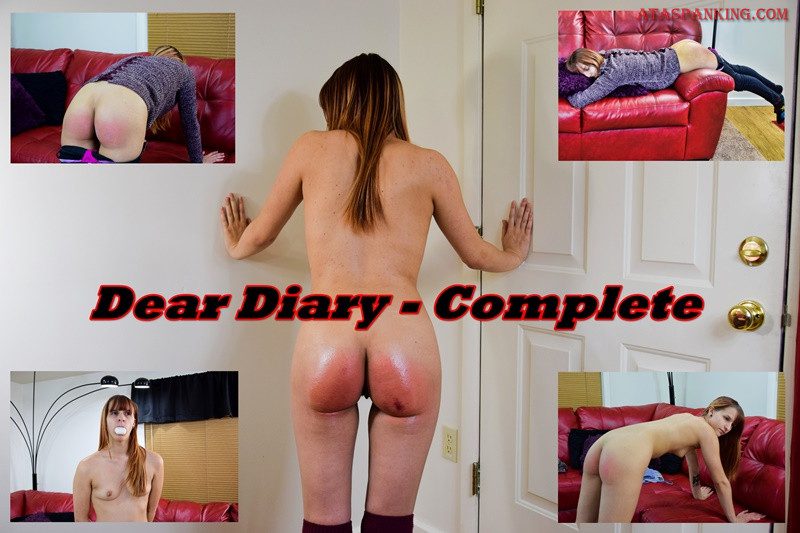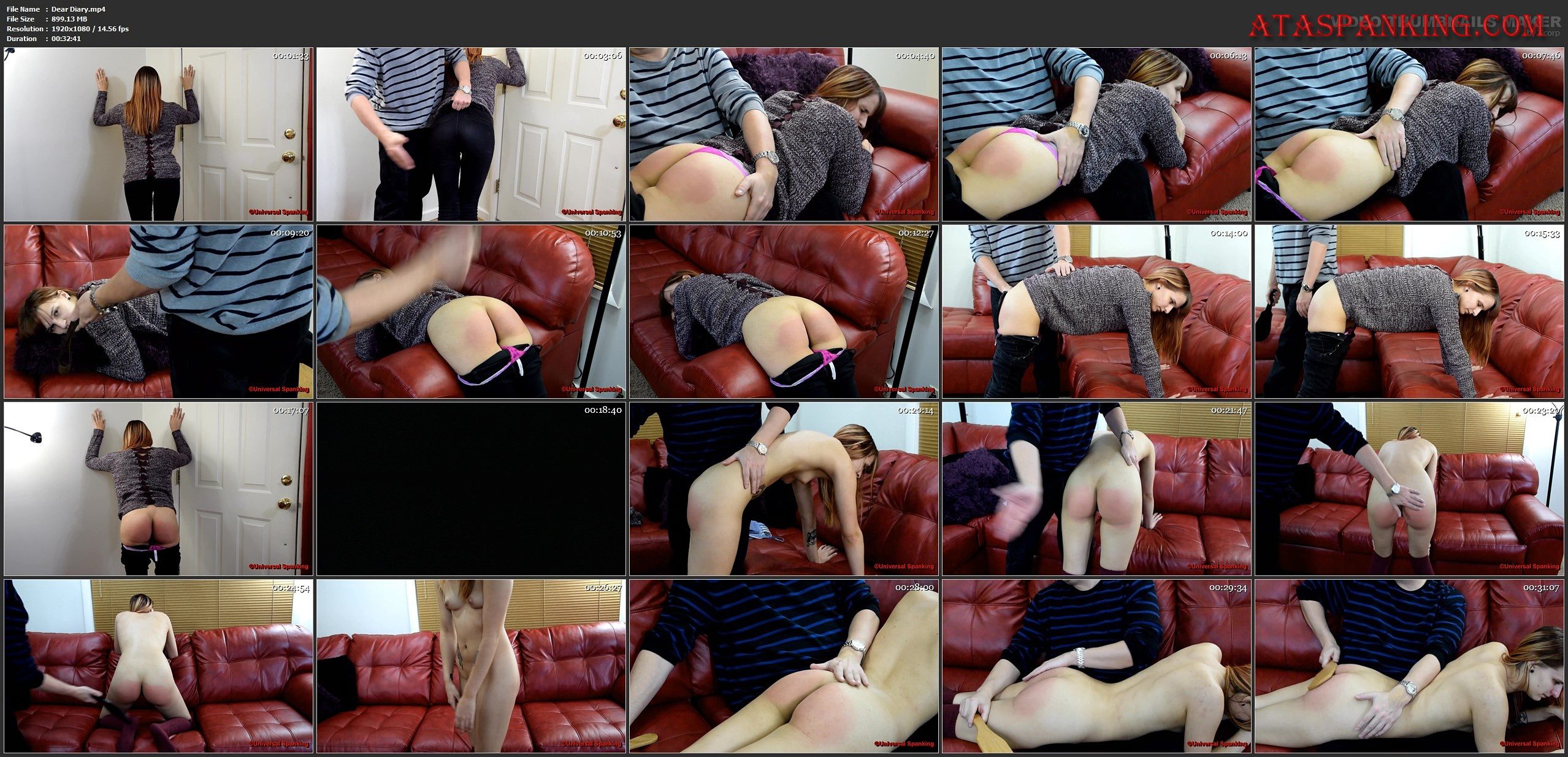 This Video Features "Dear Diary part 1: My First Weekly Spanking" and "Dear Diary part 2: Paddled to Tears" together and in their entirety!
There's a special bond between a Step-Father and his step-daughter, in fact, he'd generally do almost anything for her. In that same respect, he also expects good behavior out of his girl, as he wants her to succeed in life. In "Dear Diary part 1: My First Weekly Spanking", we get a glimpse inside that that special bond, a look at the spankings that must take place when a step-daughter disappoints her Step-Father.
This video starts out with Aimee Morgan talking to her video diary, ashamed for her poor recent actions where she was goofing off in class and hit her teacher in the head with a large eraser. Her teacher was devastated and had to take a couple of days off,…it was the final straw for her Step-Dad as her behavior had gone down hill in the past year. Mr. Morgan decided that this year would be different and that Aimee would have weekly spankings administered to her bare bottom, it was time for a change!
Aimee assumed her position in the corner and the spanking began right there, over her tight jeans. Soon she would be placed over her Step-Dad's knee wearing just a thong and having her bottom repeatedly smacked by his heavy hand. This last year had been too much for him, he felt that dishing out regular spankings was his last resort. As promised, her thong was pulled down and Aimee was spanked on her bare cheeks, they were bouncing with each and every smack, she couldn't believe that this was now going to be a weekly thing, a new way of life for her!
Next, her Step-Dad peeled off his belt and laid in a lot of licks to her bare bottom! He had placed Aimee over the arm of the couch so her bottom would be sticking high up in the air, a good position for applying some leather. This was true old fashioned discipline, and the first weekly spanking would also see Aimee having her bottom paddled too! A stiff leather paddle was applied as Aimee bent over, she struggled through those swats as the heat increased with each and every stroke. By the time the spanking was over, Aimee wished that she hadn't messed up so much, perhaps the spankings were already working? Let's hope that they did, because if Aimee messed up throughout the week and required extra spankings besides her weekly discussions with her Step-Dad, she would be required to take fully naked spankings that would be even more embarrassing and painful!
In "Dear Diary part 2: Paddled to Tears", the lovely Aimee Morgan reveals that she's made a big mistake (as she starts taking off all of her clothes)! Her Step-Father has put her on a weekly punishment program due to recent behavioral problems, and he made it clear that if she earned a spanking during the week, those spankings would be administered to her bare bottom right from the start, in fact she would be fully naked. In this situation, Aimee carelessly broke the window of a neighbor and she knows full well that her little bottom is going be tanned, and it's going to be spanked hard!
Aimee is already naked (besides her knee socks) and ready for punishment when her Step-Dad arrives home. She is ready to get this over with as she's really been trying to be a better girl. The spanking starts out with the hand as she's bent over the couch. Aimee never gets used to the sting of spankings, they always hurt her a lot, but then again that's what they're supposed to do. Next, Aimee feels the sting of a long strap, stokes with it make her struggle to keep composure, there's no question that she won't be sitting easily for days to come. Aimee is then instructed to kneel on the couch to take swats with a leather paddle, it is during this part of the punishment that Aimee becomes sassy and her step-father turns to an old fashioned method to assist with the correction!
There are a lot of different punishments that can be used to correct the attitude of a girl sporting too much sass, and a very effective one is to wash her mouth out with soap. Aimee despises having to take a soaping, it's clear by the look on her face that this is one spanking punishment that she'll be remembering for a long time to come. The spanking is only complete though once Aimee is placed over her Step-Father's knee for a good dose of the paddle! Her Step-Dad doesn't want to have to paddle her, but he knows that this girl needs it more than most, that the discipline will do her good. The wooden paddle hurts Aimee's bare bottom, in fact we clearly see her shedding tears, due to the pain and embarrassment of having to accept naked spankings. It's fair to say that some girls grow out of needing a spanking, then again, some girls never do,…and it looks like Aimee will be enduring spankings for a long time to come!
Dear Diary Parts 1 and 2 – Complete!
File Name : Dear Diary.mp4
File Size : 899.13 MB
Resolution : 1920×1080
Duration : 00:32:41