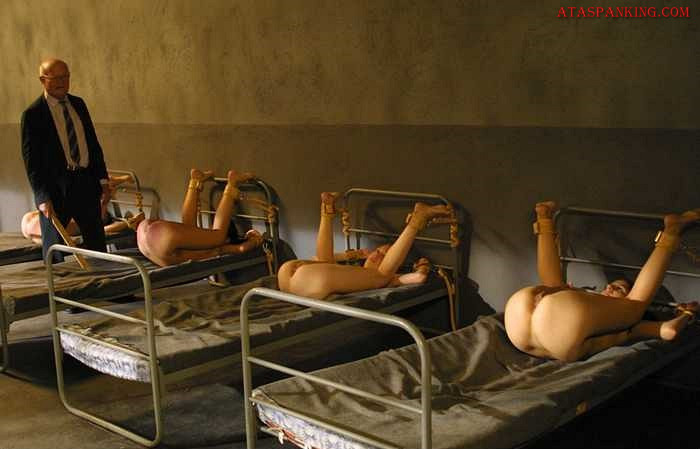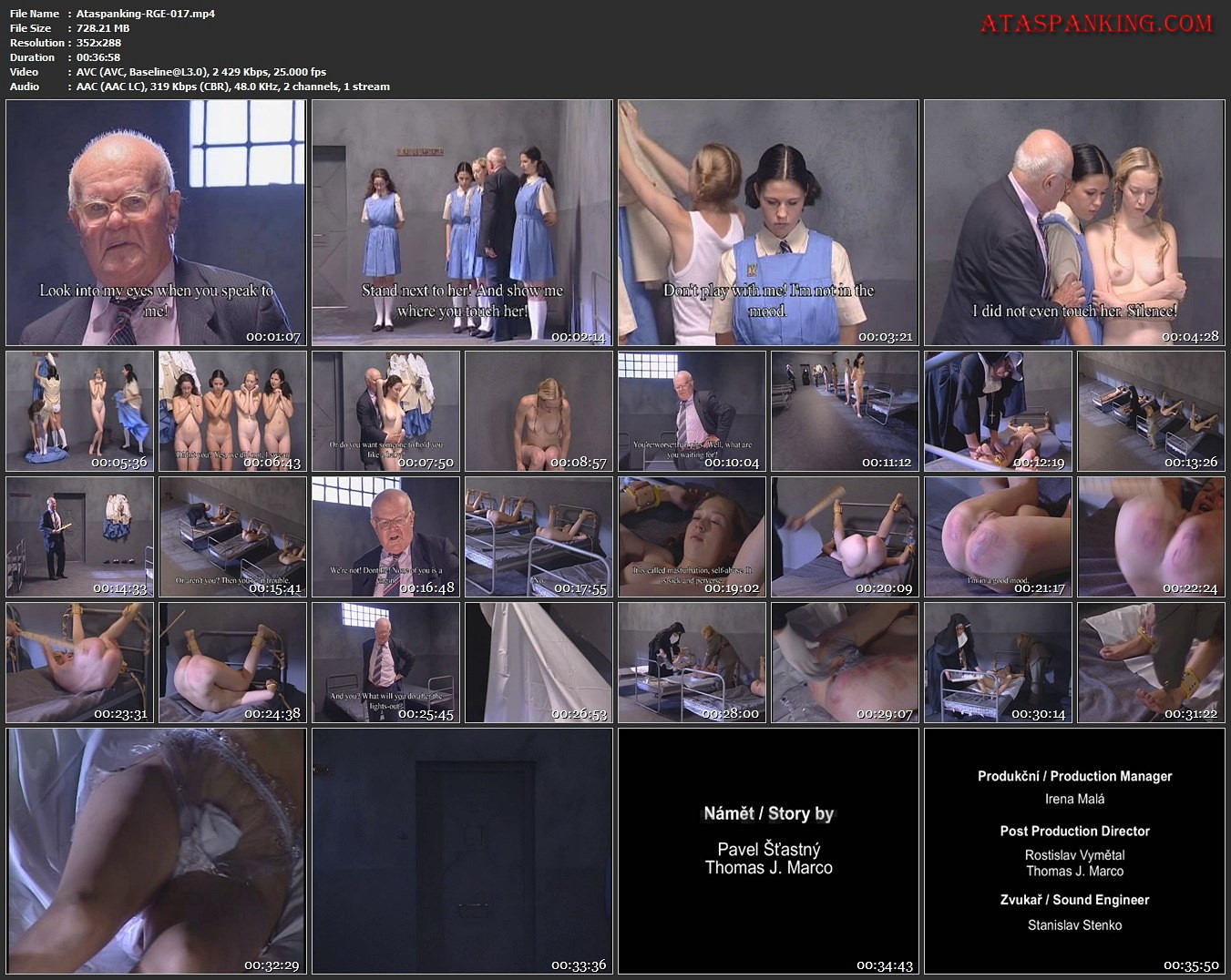 Do you consider our production too meek? Or do you miss some of your favorite themes, which have not appeared in our movies yet?
Now you can enjoy an extraordinary spanking movie, taking place in a strict detention house. Prepare yourself for big servings of nude girls, degradation of all sorts and – as always – vigorous spanking of nice girls' butts.
The whole movie was shot in a single stark room, obviously reserved for punishments. The inmates are lined up under strict supervision of their preceptress – a nun. Their innocent faces clearly show their fear of what will come, of upcoming punishment and ingominy. The Headmaster walks in. The girls stand tight and we learn what their transgression was. They were caught all in one bed after the lights-out. The slippery educator not only wants to punish them, but primarily to disgrace and spatter them. And, we must say, he is good at it. Gradually, the girls get naked and are forced to confess that they caressed each other in bed. Although it was not the truth, they were only cold, the educator has his own truth and holds onto it. He instructs the girls to re-enact their "crime" and to touch each other's private parts.
And then comes the verdict. They will be beaten with a paddle over their buttocks and thighs. The harshness of the punishment, 50 strokes, strikes them instantly. They have to take turns on a bucket in the corner of the room, pissing, so that they would not soil the bedsheets later. The preceptress ties the girls to the bedposts with the help of a mean-looking house-mistress. The girls have to submit to inspection of their virginity by the goatish educator. They have to admit their masturbation activities and confirm that they broke their virginity themselves.
The girls are then beaten, one after another gets her 50 strokes with the paddle. Exposed private parts are cruelly mutilated. The girls cry and try to avoid the blows, without success. Cruel educator has no mercy… If you thought this was the end, you were wrong. The worst is yet to come. Caustic ointment is then applied to the girls' private parts to "teach them" not to masturbate. You can witness the application of the ointment by rubber-clad hand of the preceptress. Diapers are applied over the girls' crotches and it is obvious, that the girls will go through Hell before they are released. Showing signs of great discomfort, they are left in the darkening room for the next 24 hours. Are you interested? Has the movie struck some of your fantasies, or do are you simply want to enjoy such scene? The movie has good atmosphere – the room has really ominous look and the Moon project the image of iron bars – symbol of bondage, mortification and confinement – onto gray walls, which greatly contrast with young naked lustful bodies…
Believe us – you definitely should watch this movie.
File Name : RGE-017.mp4
File Size : 728.21 MB
Resolution : 352×288
Duration : 00:36:58
Video : AVC (AVC), 2 429 Kbps, 25.000 fps
Audio : AAC (AAC LC), 319 Kbps (CBR), 48.0 KHz, 2 channels, 1 stream