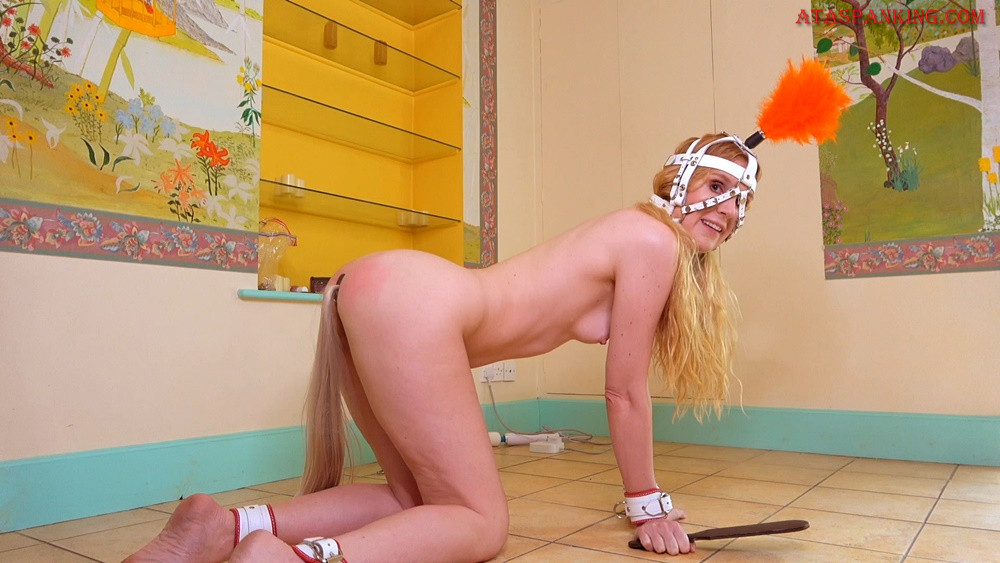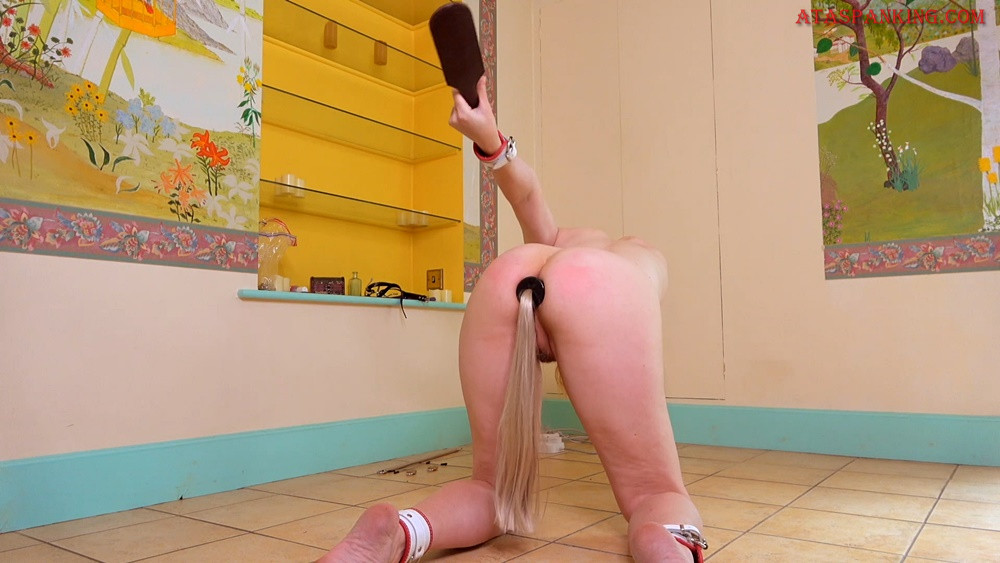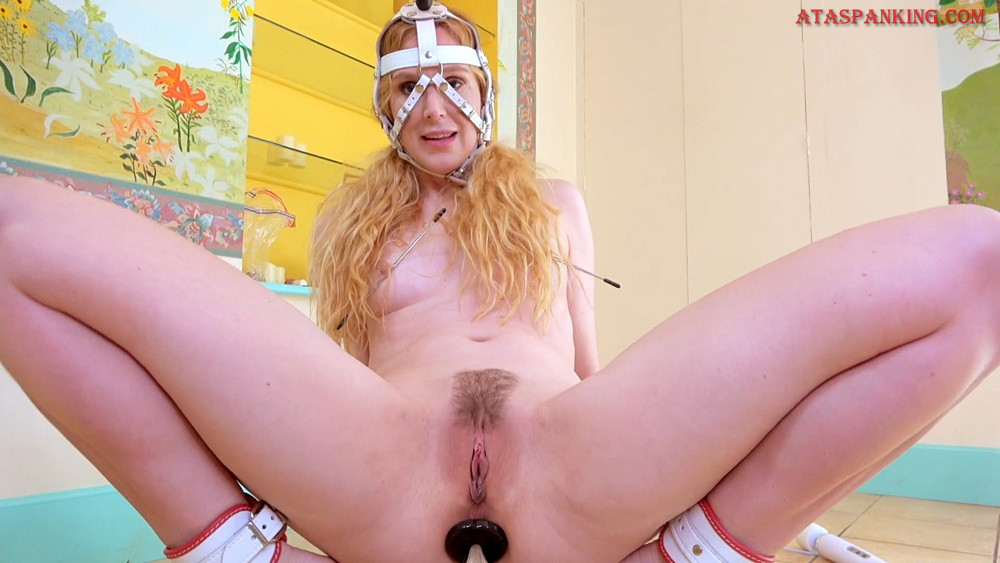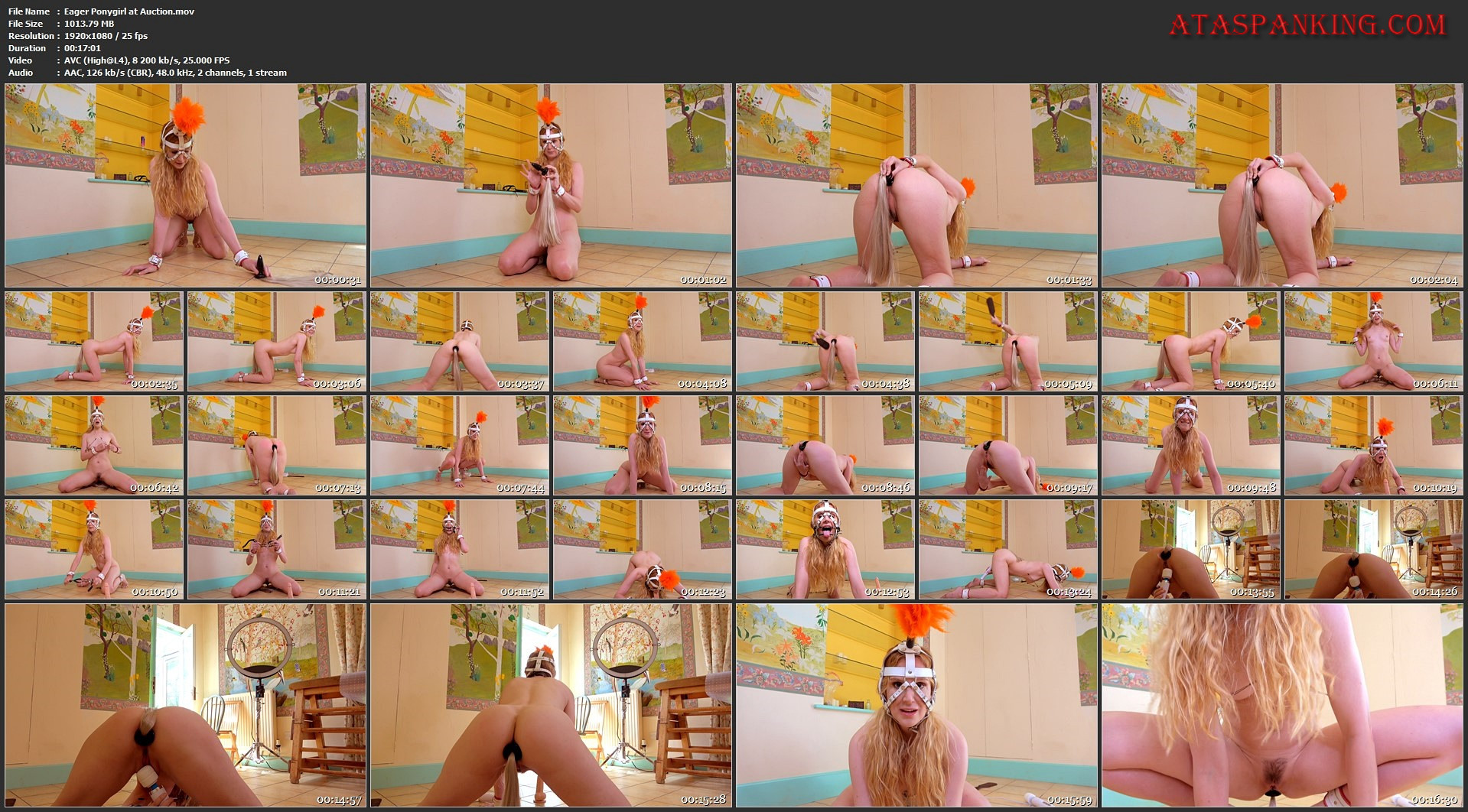 I'm SO EXCITED! Potential owners have been here at the auction house for 3 days, and this afternoon, they get to make appointments with ponies they're considering bidding on tonight. I know who I want as my Master, and he's chosen to come and see me – I really hope he'll buy me! I only have a couple of minutes before he comes in so I need to prepare. My head harness is all present and correct, as are my wrist and ankle cuffs. I've only just been issued my real butt plug tail, and it's rather alarmingly large, so I take my time inserting it, but once it's in, it feels magical! I feel just like a real pony now! And it's just in time, I can hear his footsteps in the corridor…
Good morning Sir! You'd like me to crawl around the room for you? And show you my butt plug tail? Yes, Sir! You instruct me to add nipple clamps and a spreader bar between my ankles and crawl around for you some more – it feels much hotter now that my pussy's exposed and you can see how wet I am. You instruct me to spank myself with a paddle, before telling me to play with my pussy for you, and even spank my pussy! How embarrassing when the sounds make it obvious that I'm soooo turned on! You ask me how I like giving blowjobs, and instruct me to demonstrate on a dildo. I'm getting so frustrated that this meeting is 'non-contact' according to the rules of the auction house, so I'm not allowed to suck your actual cock, and you're not allowed to touch me (even though I want you to put your hands all over me, OMG). But even just demonstrating on the dildo is fucking hot, and I can't help making sounds of pleasure – I hope that doesn't mean you'll think I'm undisciplined! You ask whether I've ever worn an open-mouth gag, and I don't know what you mean until you draw my attention to the gag you'd requested to be brought into the room for our session. At your instruction I strap it into my mouth, and open it wide so you can inspect my tongue and open mouth. And then – my goodness! You tell me to go back to sucking the dildo while my mouth is held open by the gag, and that you want to see me make myself cum with the magic wand vibrator at the same time!
I have never cum so hard, or for so long! I DEFINITELY need to by your ponygirl!
File Name : Eager Ponygirl at Auction.mov
File Size : 1013.79 MB
Resolution : 1920×1080
Duration : 00:17:01
Video : AVC, 8 200 kb/s, 25.000 FPS
Audio : AAC, 126 kb/s (CBR), 48.0 kHz, 2 channels, 1 stream
http://95.215.205.103/880b7c92e0ab8c92/Eager_Ponygirl_at_Auction.mov