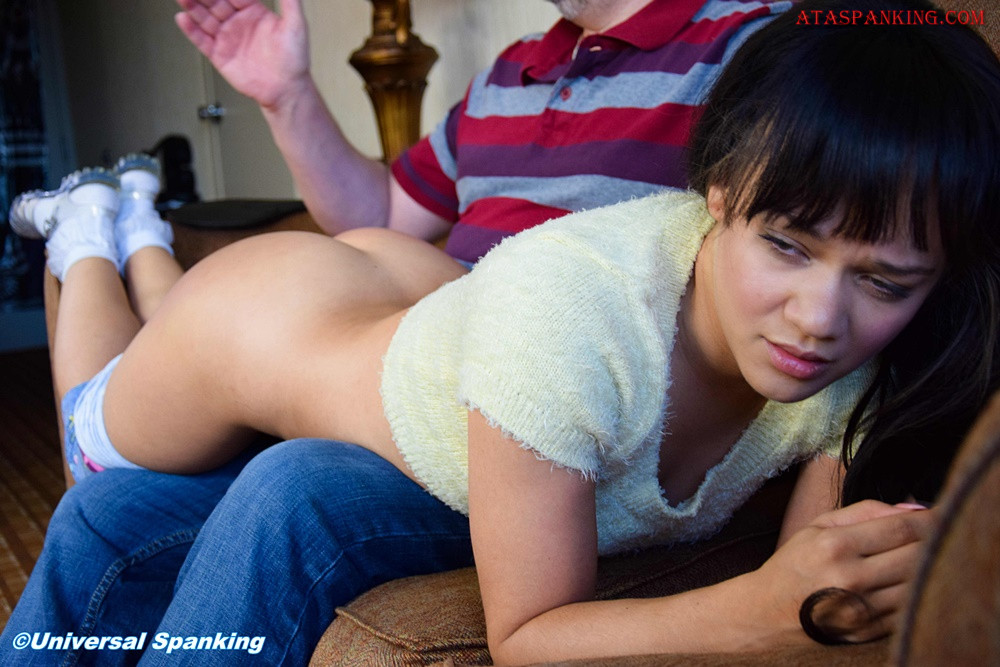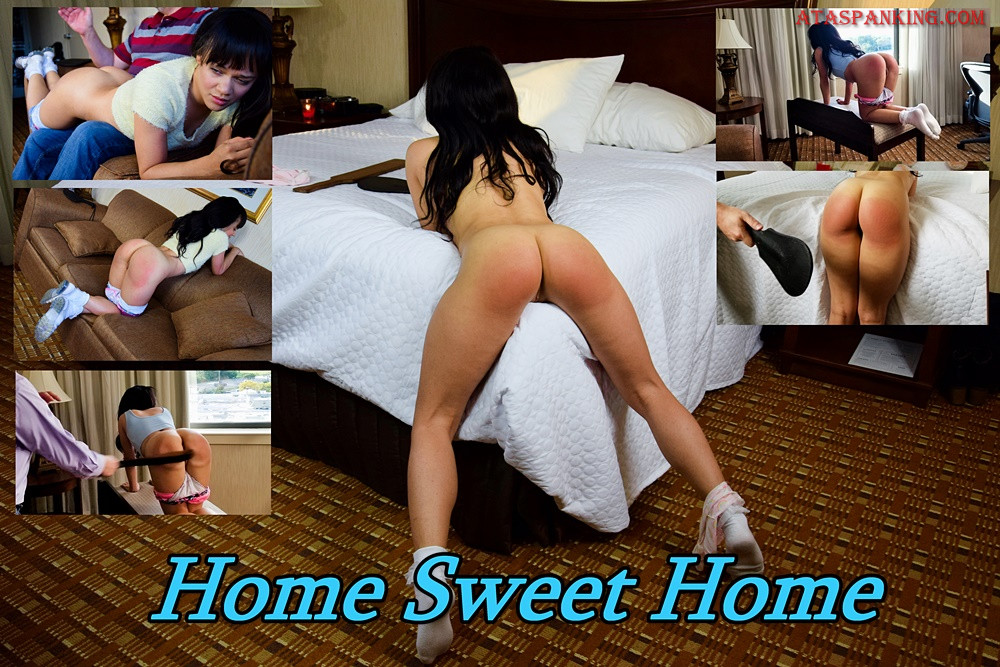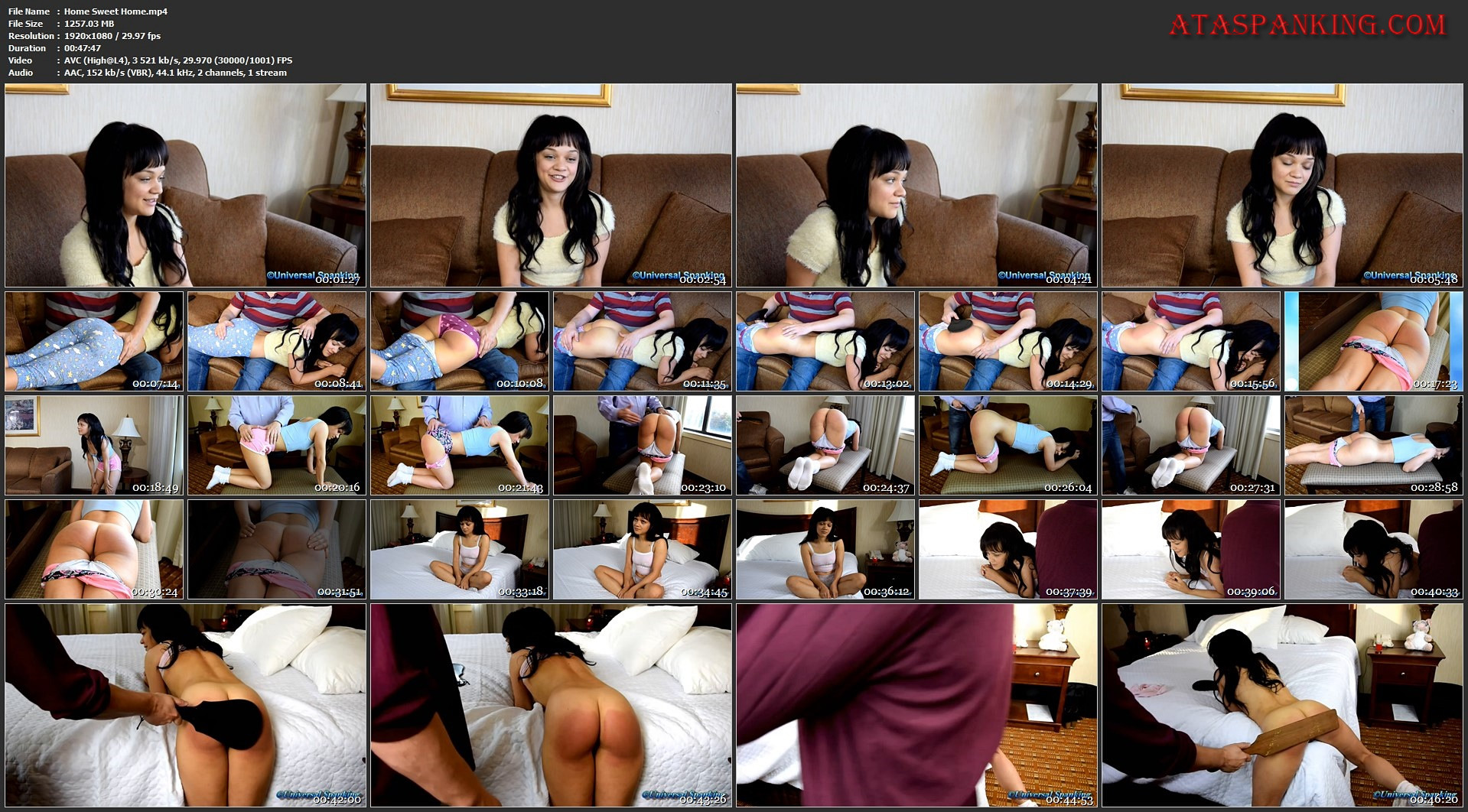 This video includes "Strict House Rules", "Born to be Sore", and "The Painful Journey Home" together as one complete set and featuring Kiki Cali.
Mr. Kinter was enjoying his quiet life in the country, work was good and his home life was peaceful. He rarely used social media, but occasionally for business it was required. It was online that a girl reached out to him, she said that her name was Kiki and that she had to meet him. Mr. Kinter was surprised and perhaps confused as well, but Kiki kept insisting that they meet and being the mannerly man that he was, he obliged.
Soon enough Kiki was sitting in his living room, it seemed as if Mr. Kinter had met the girl before, but he didn't say anything. Instead, Kiki unleashed a bombshell, that she was his step-daughter from a previous relationship years before and she needed a place to stay. Mr. Kitts was stunned, there were so many questions, but he first felt compelled as a new step-father to help the girl. The house rules were explained to Kiki and she agreed to them, her new step-dad made it clear that he was a firm believer in using corporal punishment to resolve behavioral issues. Eventually, Kiki confessed to having missed a lot of school as of recent, so the first day meeting her real step-dad would also be the first time that she'd be taken over the knee for some parental discipline!
Kiki was shocked, there she was meeting her step-dad for the first time, finding a new place to stay, and getting an over the knee spanking all in the same day! Mr. Kitts wanted Kiki to understand how the household would operate, and in turn he would spank the girl over her panties and on her cute bare bottom. In fact, to make sure that Kiki understood that he was serious, he also used a leather paddle to repeatedly swat her sore behind! Kiki would have to follow the rules and she would have to be obedient, or she could choose to live elsewhere. It would be a challenge living with her step-dad, Kiki knew that, but even though her bottom was on fire she appreciated that there was finally some discipline in her life.
In "Strict House Rules", Kiki Cali was searching for her real Step-Dad and a place to stay for awhile. However, what she found was a caring man who would provide her with love, and some much needed discipline!
In "Born to Be Sore" we delve deeper into the bond being formed between Kiki and Mr. Kinter (the man who may very well be her Step-Dad!). Mr. Kinter is trying his best to steer Kiki back on the right path as she's now living at his home, it's not easy for her to follow all of the new rules though, but she's doing her best. One thing that she's been having trouble with is following through with tasks,…and she's also been displaying bouts of sass. Mr. Kinter tries to get Kiki to focus on getting an internship, but she struggles with the challenge and she even talks back, of course that leads to some stern punishment and painful licks with the strap!
Kiki is instructed to get into position on a bench, she's placed on all fours and Mr. Kinter lays into her bottom with a hard hand spanking! Eventually, Kiki is spanked bare bottom and submitting the punishment, but Mr. Kinter is determined to make sure that a lesson or two is taught so he decides to take the belt to Kiki so she'll be sore for days! Clearly the corporal punishment was working, Kiki's behavior had been improving, but Mr. Kinter wanted to make sure that there was some real progress, so he laid in several strokes of the belt very hard, causing the girl to regret her poor behavior.
Mr. Kinter had planned to wrap up the punishment with a strapping, one where Kiki would have to present her bare bottom while laying flat over the bench. The strap strokes would burn and Kiki would feel a sense of true regret. However, the stinging sensation to Kiki's behind caused her to lash out at Mr. Kinter and he was not pleased. Would Kiki be allowed to stay at his house after the outburst, would Kiki receive more intense corporal punishment for her bad behavior, and would the girl find out if Mr. Kinter was truly her real Step-Dad?
After all of the speculation in "Strict House Rules" and "Born to Be Sore", we finally find out that Mr. Kinter is in fact Kiki's real Step-Dad! It's shocking news after all that they've been through. At the same time, Kiki's step-mom has made strides in her life and she can now go back home to her if she wants to. After given the option of living with her new Step-Dad or going back to live at her previous home, she decides that she wants to stay with her new Step-Dad!
Mr. Kinter makes it clear though that if Kiki stays she's going to take a spanking punishment that she has coming to her for the defiance that she had shown previously! Kiki agrees to the punishment and she goes right over her Step-Dad's knee for an old fashioned spanking. The girl is given strict smacks as her bottom turns a nice shade of red, she's also informed that she'll be getting swats with the wooden paddle later! First though, Kiki's bottom is bared and she gets swats with a leather paddle, they burn her buns, but they're well deserved. Next, Kiki is made to strip entirely and she's put on notice that any future spankings will also be given to the girl when she has fully stripped!
The final part of this punishment has Kiki in a very exposed position off the corner of the bed and she is given swats with a wooden paddle! Mr. Kinter believes in firm corporal punishment and that's exactly what Kiki was given. In fact, Kiki admits to her new Step-Dad that she hasn't had much discipline in life so far, perhaps the girl respects her Step-Dad for caring enough to tan her behind during the times that she needs it most?
File Name : Home Sweet Home.mp4
File Size : 1257.03 MB
Resolution : 1920×1080
Duration : 00:47:47
Video : AVC, 3 521 kb/s, 29.970 (30000/1001) FPS
Audio : AAC, 152 kb/s (VBR), 44.1 kHz, 2 channels, 1 stream