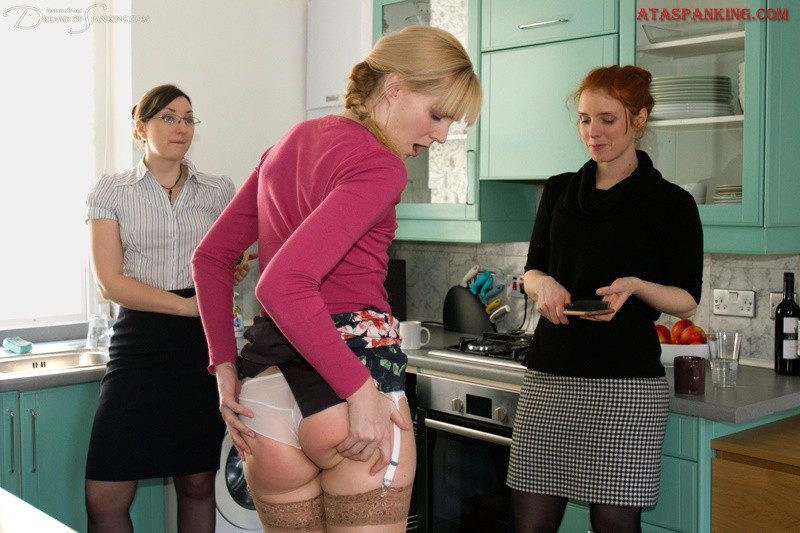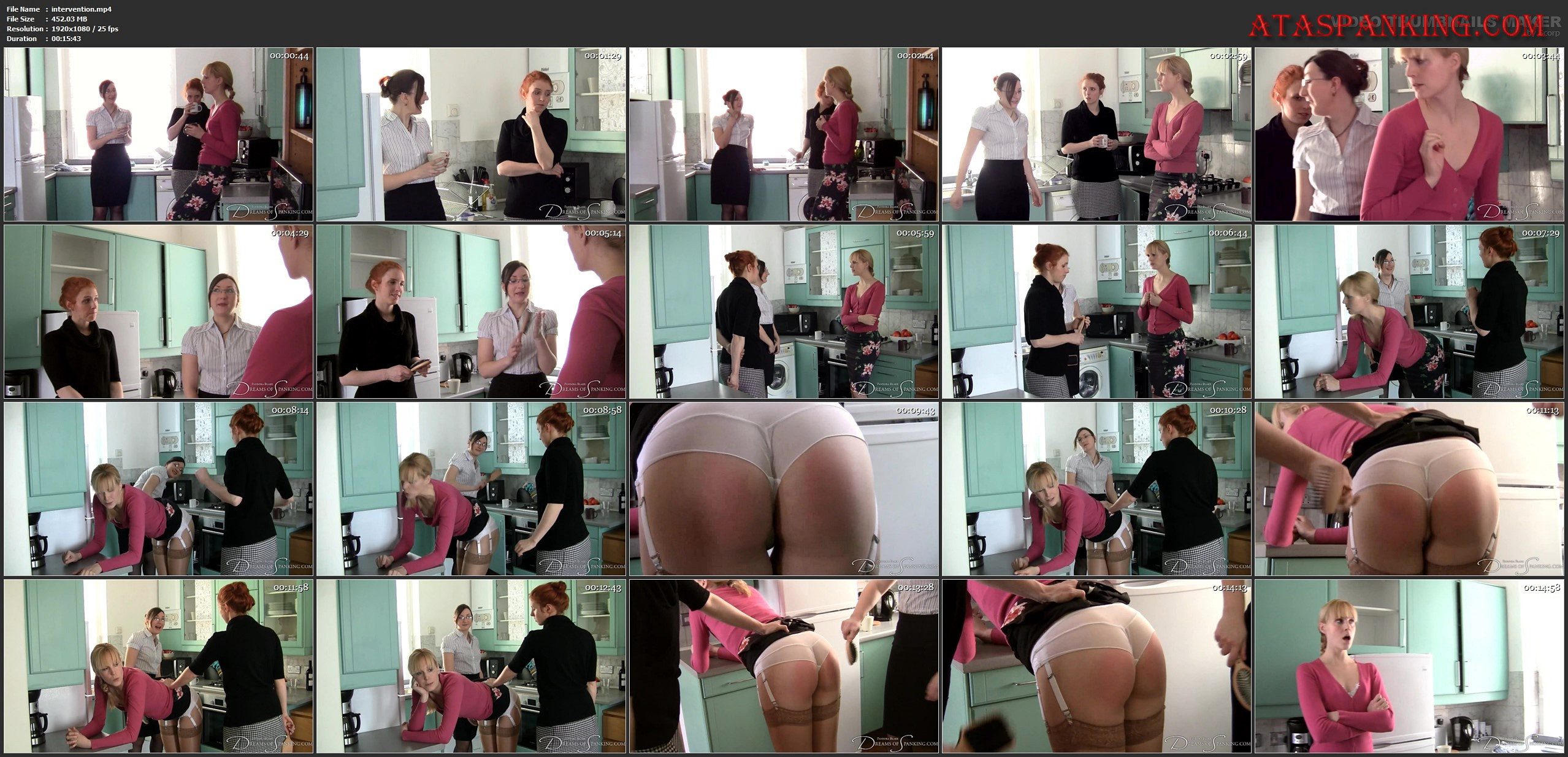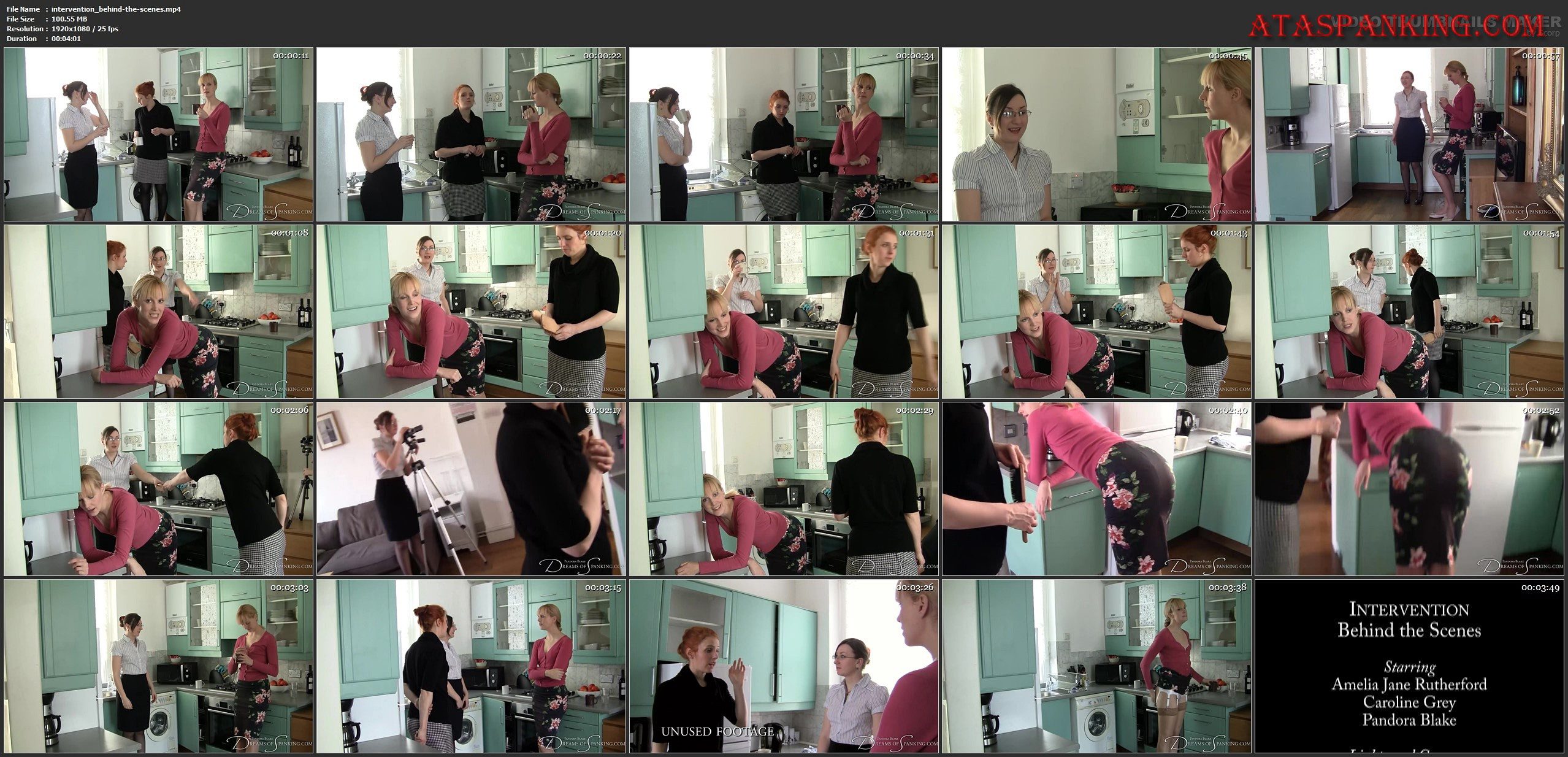 Amelia is spanked in stockings after her colleagues discover she's been taking the credit for their work. Pandora and Caroline dish out a well-deserved hairbrush spanking to their haughty colleague.
In this all-female spanking scene, Amelia Jane Rutherford plays a very arrogant and haughty work colleague. Pandora Blake and Caroline Grey are sick of Amelia's manipulation – not sharing the credit on work reports and putting in some very dodgy expenses claims (erotic lingerie as a work expense for a conference? Nice if you can get it!). As Amelia is the boss's favourite, the girls decide it's time to take punishment into their own hands.
In fear that Pandor and Caroline will expose her bad behaviour, Amelia reluctantly agrees to surrender to a beating. She bends over the kitchen counter, and Pandora lifts Amelia's skirt to reveal her stockings and suspenders – spoils from screwing the expenses system.
Pandora and Caroline then take turns to dish out a hairbrush spanking. One stroke each, on each cheek, repeated until Amelia is squealing and protesting in pain. As her bum turns bright red, her colleagues berate her and extract some sulky apologies and bratty comebacks, before finishing with a stern warning not to do it again. Amelia is left alone to rub her sore bottom and think about her behaviour at work.
Intervention – behind the scenes
Behind the scenes during the filming of Intervention, including composition by height order, cupboards that won't stay closed, Caroline sofa balancing in heels while fetching the hairbrushes, "one cheek each!", conversations about continuity errors, arty camera angles (high technology!), Amelia wiggling her bottom "like a caterpillar – or a snakey", and Hywel running between both cameras like a champion, and engaging in highly skilled handheld work while perched on top of a chest of drawers!
Amelia Jane Rutherford, Caroline Grey, Pandora Blake
http://95.215.205.103/108fec5819247bcf/Intervention_-_Film_&_BTS.zip