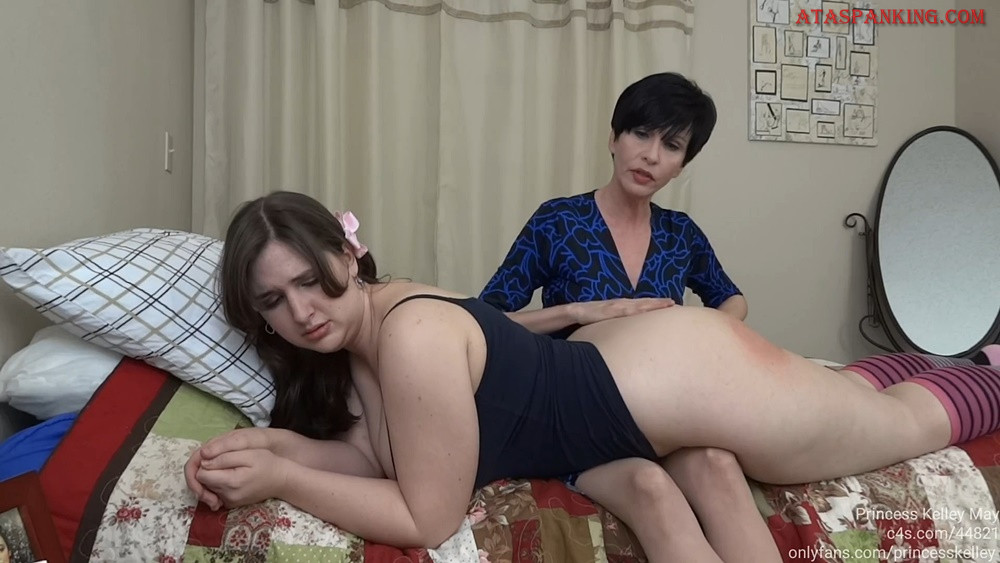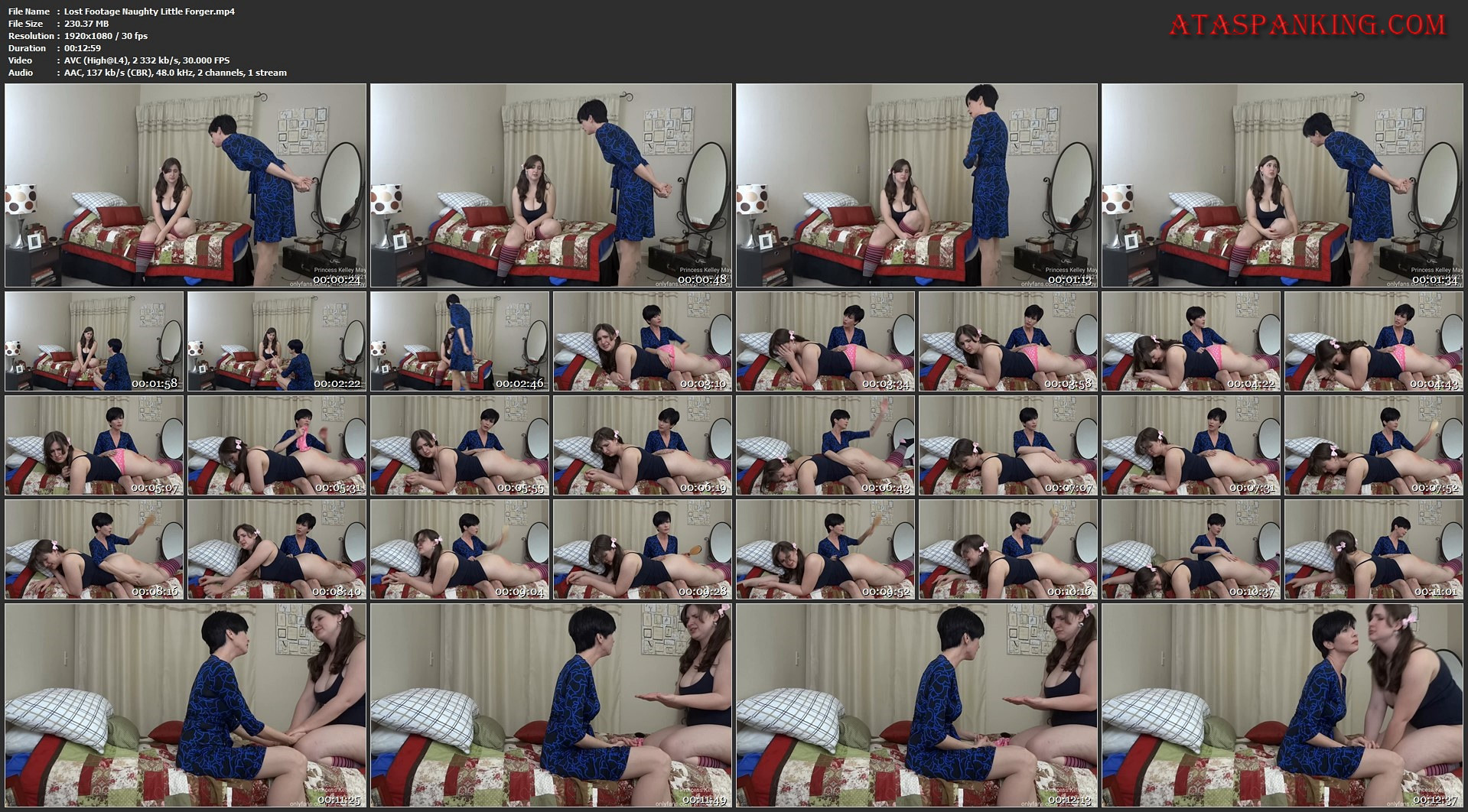 Another Lost Footage Clip!
Little Kelley has been naughty, and her Step-Momma, Dana Kane, is not happy about it. Kelley is adorable in her pigtails, knee socks, and pj outfit, as she confesses that she failed her math test and then forged her Step-Mommy's signature for school. After a thorough scolding, Dana takes Kelley over her knee for a good long spanking. First with her hand over Kelley's pink panties til her bottom is a bright pink to match. And then on the bare bottom, all the while Dana scolds and lectures Kelley about the importance of being honest and how "naughty little girls get spanked."
Then Dana makes little Kelley hand her the wooden hairbrush. When Kelley pouts and protests, Dana threatens her with bedtime spankings for a week! That gets Kelley moving, who hands her Step-Momma the brush. And Dana certainly makes good use of it. Kelley squirms and fusses at the hard strokes, but Dana is not moved, and just keeps raining stroke after stroke on poor Kelley's upturned backside. Kelley takes a very hard hairbrush spanking, and you can see all of her glorious reactions and hear Dana's firm words. Then, Step-Mommy Dana has little Kelley kneel up on the bed, her ample bosom on display, and she smacks her hands for forging her signature. Kelley is then left rubbing her bottom on her bed, planning for napping on her tummy tonight.
This is an amazing age-play spanking video. While not explicit in the ageplay elements, Kelley is firmly and clearly in little's space, and Dana is the quintessential firm maternal figure. Her scolding in this video is absolutely superb, and the connection between the two is palpable.Kelley takes a very hard spanking in this one both with Dana's hand and hairbrush. If you like a firm, no nonsense spanking that's done very much "for your own good" then this is absolutely the video for you.
Important to note: the reason this is a lost footage clip that hasn't previously been released is the "butt cam" footage has been lost. So, the entire video is shot from the long angle. Meaning, you can clearly see both Kelley and Dana for the entire shot, particularly Kelley's reactions, as well as the curve of her lovely bottom and where all the strokes fall. But there are no direct on bottom shots. That said, it's an incredibly enjoyable video that will certainly tick the boxes for fans of Kelley, Dana, hairbrush spanking, or ageplay spankings. Hope you enjoy!
File Name : Lost Footage Naughty Little Forger.mp4
File Size : 230.37 MB
Resolution : 1920×1080
Duration : 00:12:59
Video : AVC, 2 332 kb/s, 30.000 FPS
Audio : AAC, 137 kb/s (CBR), 48.0 kHz, 2 channels, 1 stream
http://95.215.205.103/733f7276f2af3798/Lost_Footage_Naughty_Little_Forger.mp4