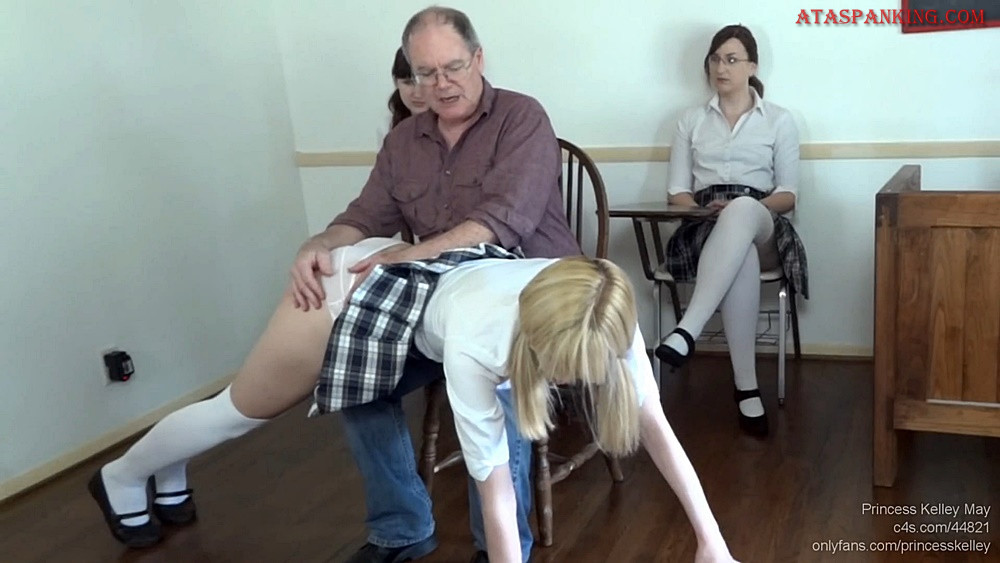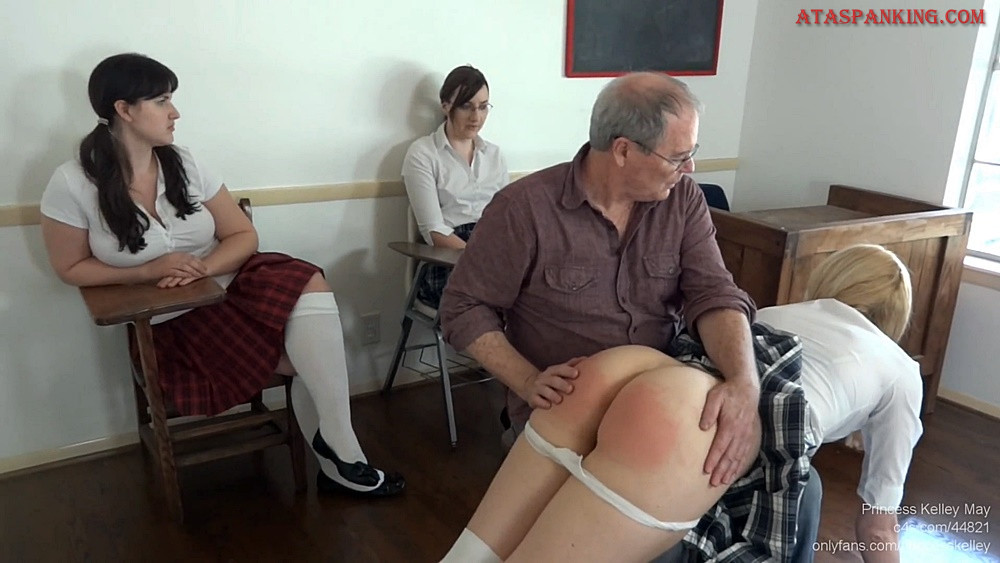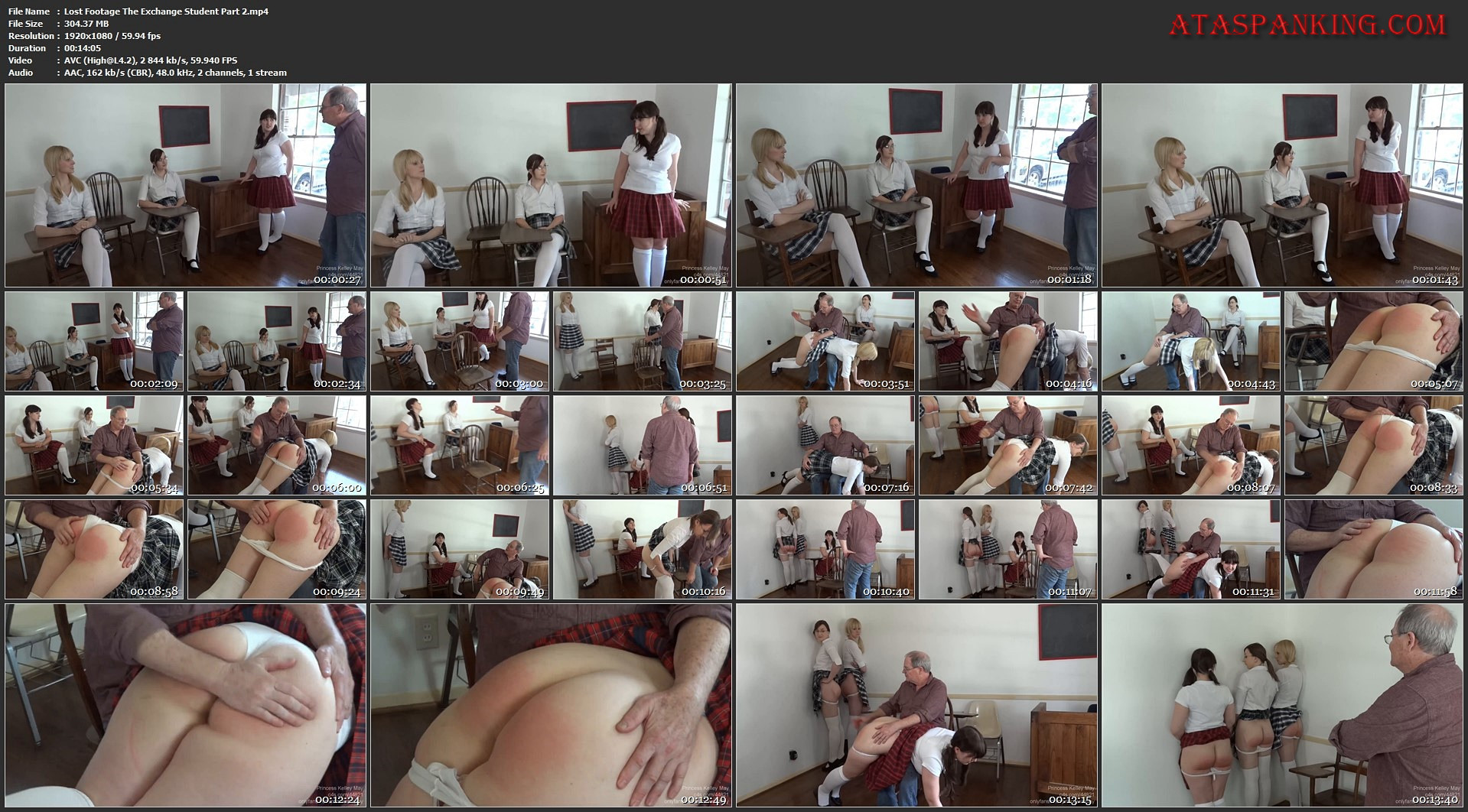 The long awaited sequel to the popular "Exchange Student" is finally here! I had misplaced some of the footage for this, but have luckily found all of it, and able to present this absolute gem. Starring Amelia Jane Rutherford, Pandora Blake, and Princess Kelley May, all getting bare bottom spankings!
We last saw poor Kelley getting spanked and caned by Pandora, who (along with Amelia) had convinced Kelley to let her spank and cane her to "prepare" Kelley for what she had in store at her new school. Pandora and Amelia clearly delighted in punishing the wide eyed and innocent new girl– who also seemed to perhaps enjoy Pandora's easy dominance. Well now it's Kelley's turn to get a bit of revenge.
Kelley has gone and told a teacher! Mr. Rogers has been informed of what happened, and Kelley is all too pleased with herself for getting Amelia and Pandora in trouble. First it's Amelia's turn, and the leggy blonde goes over Mr. Roger's knee as he sits in the straight backed chair in the middle of the room. Amelia's bottom is turned bright red by Mr. Roger's firm hand. And unfortunately for her, Amelia's smart mouth and bad attitude always seem to earn her extra swats. She's then placed in the corner, bare bottom on display (for Kelley to enjoy teasing and tormenting behind Mr. Roger's back), and it's Pandora's turn. The head girl tries to argue her way out, saying that they were only trying to help Kelley! He is unmoved, and it's Pandora's turn to go across his knee for a spanking. First on her white cotton panties, and then humiliatingly, across her bare bottom. She is then also put in the corner next to her partner in crime, bare bottom on display for all to see.
Kelley meanwhile is grinning from ear to ear, looking very pleased with herself and reveling in the other girls humiliation. That is until Mr. Rogers declares that it's her turn! Tattling is not encouraged in this school, and neither is teasing other girls when they're being punished. So let's see how well they taught you to take a spanking, shall we? Amelia and Pandora look at each other with devious smiles as Kelley is pulled over Mr. Rogers knee. Her poor bottom is once again spanked, first over her panties, and then with those white cotton knickers pulled down.
Finally it's Kelley's turn to join the wall of miscreant girls with bottoms on display. Three well punished girls who have certainly learned their lessons… or have they?
Amelia Jane Rutherford, Kelley May, Pandora Blake, Paul Rogers
File Name : Lost Footage The Exchange Student Part 2.mp4
File Size : 304.37 MB
Resolution : 1920×1080
Duration : 00:14:05
Video : AVC, 2 844 kb/s, 59.940 FPS
Audio : AAC, 162 kb/s (CBR), 48.0 kHz, 2 channels, 1 stream
http://95.215.205.103/d015550c01ed39b5/Lost_Footage_The_Exchange_Student_Part_2.mp4