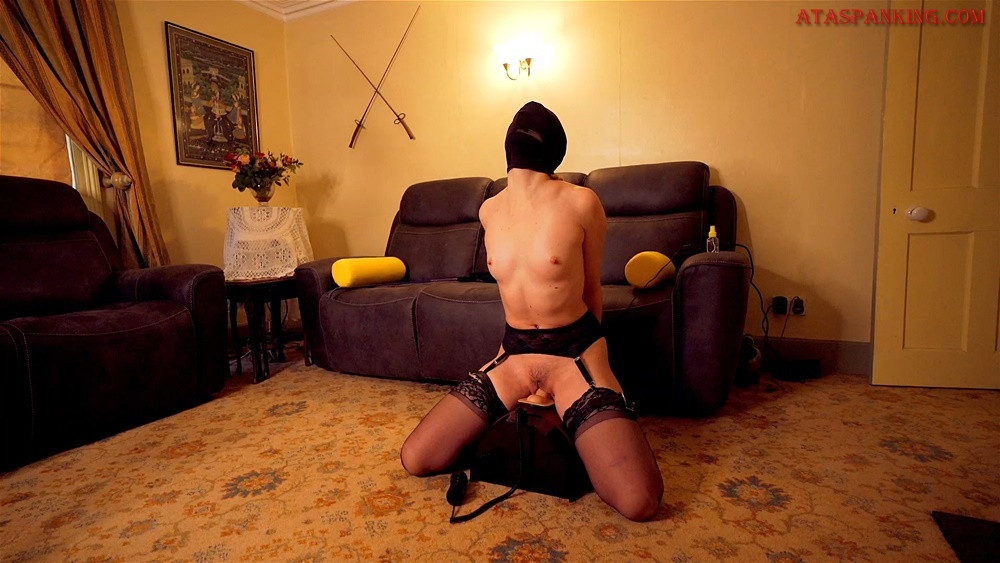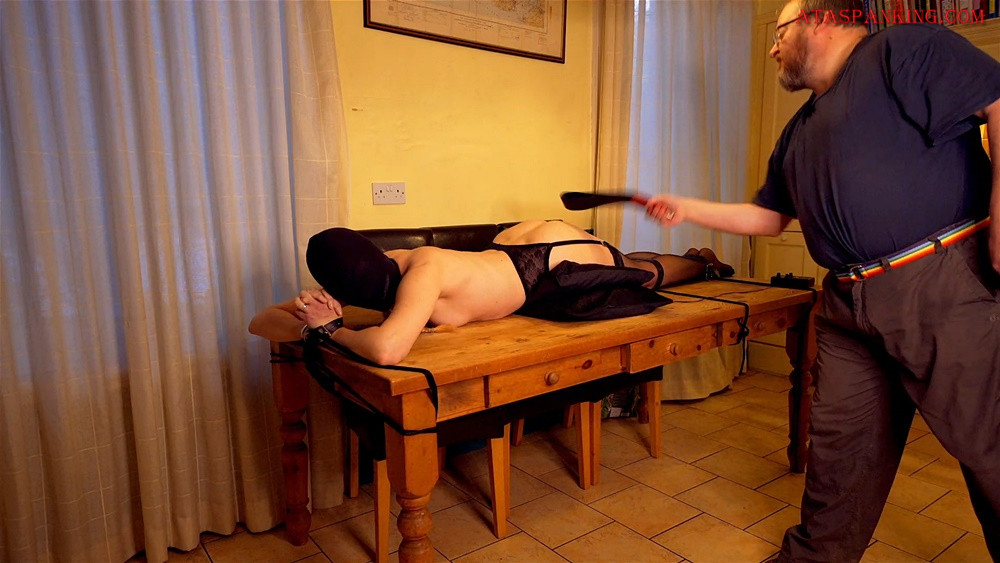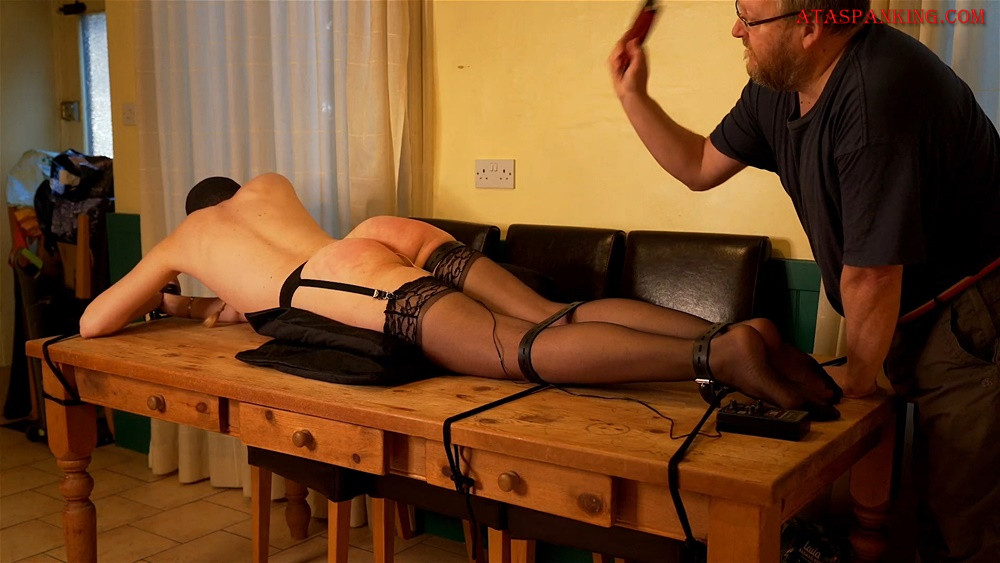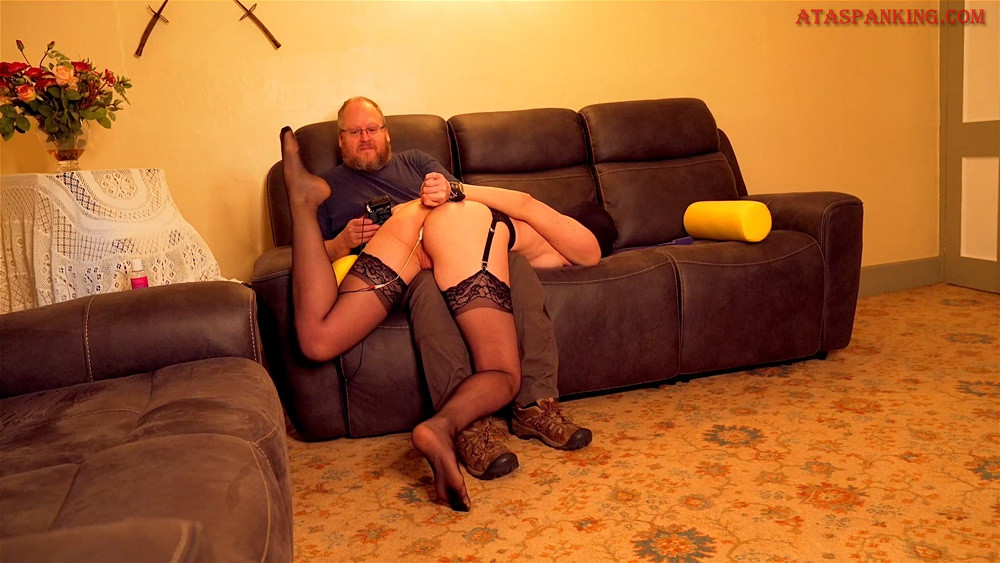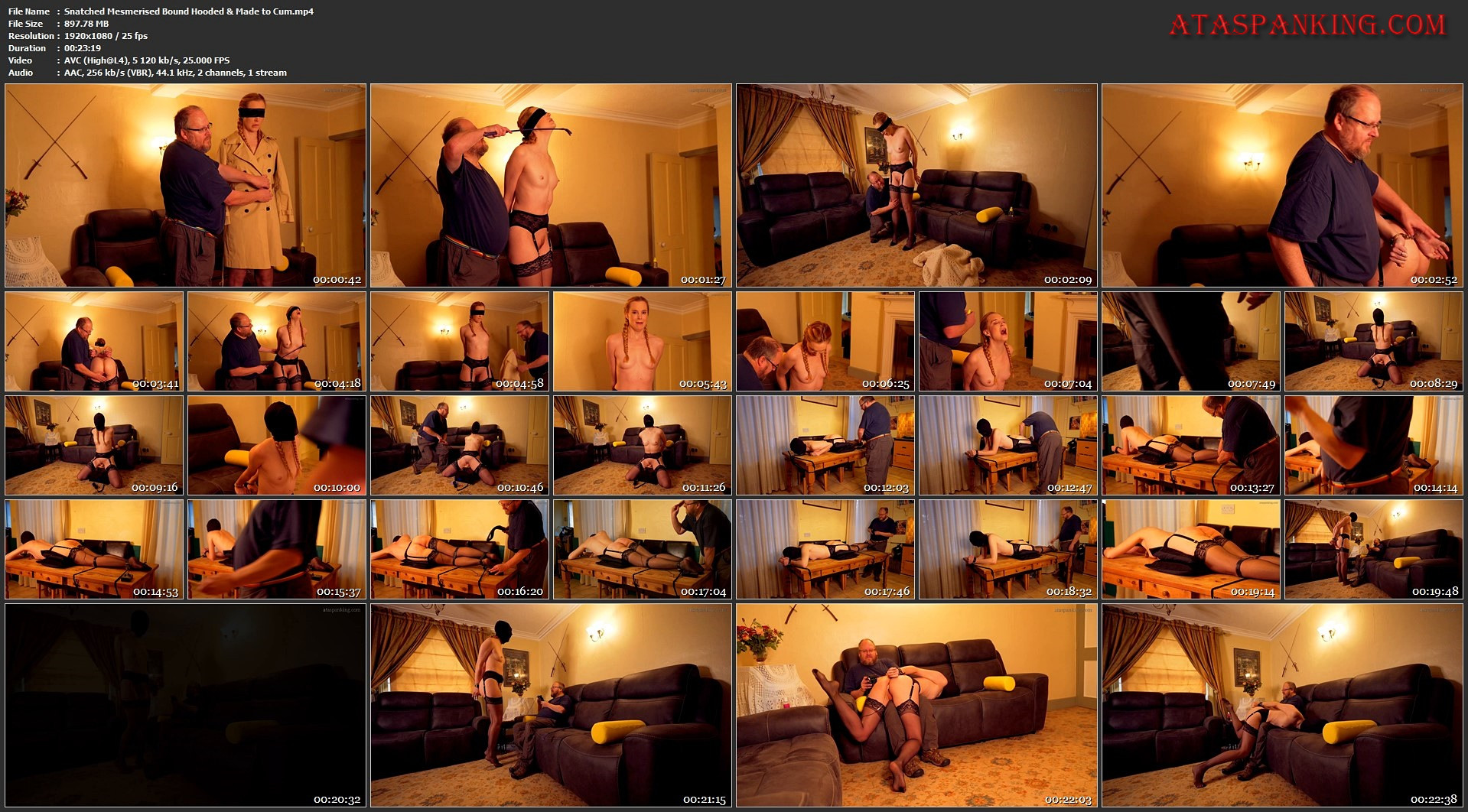 I've been taken, against my will! Blindfolded, handcuffed and dressed only in high heels, sheer black stockings and a raincoat, I'm herded in front of a group of men – I can hear them murmuring, and I'm horrified when the man who led me in removes the raincoat, displaying my naked body to everyone. To stop me panicking, he sprays a clear liquid into my mouth, and instantly I become more compliant, and strangely aroused. He adds earbuds, which are playing strange, mesmerising sounds which make me feel calmer too, as he parades me around in front of the watching strangers, groping me and using a riding crop on my body too.
But that is not all he has in store for me; when my blindfold's removed, I see that I'm standing astride a vibrating machine, and am ordered to kneel down over it. The man places a tight hood over my head, making it utterly impossible to see anything, and then straps my legs up so that I can't get off the machine and take the pressure off my pussy. When he turns the machine on, the powerful vibrations are impossible to bear – I can't orgasm in front of all these people, but how can I prevent it? What an impossible torment!
When, finally, the group have had enough of watching me orgasm in between writhing to get away from the painful stimulation, I'm taken into another room, and made to get up on a table. I'm still hooded and an electric butt plug has been inserted into my ass, so I'm too scared to protest much as a vibrator is strapped to my leg, burrowing deep into my pussy. Then my legs are bound tightly together with leather straps too, and I'm tied down to the table. The vibrator is turned on, as is the painful electric butt plug which sends powerful pulses through my body, and making me feel a confused combination of arousal and pain. But the pain's barely begun; as the vibrator and butt plug continue to do their work, the wicked man takes a cane and a strap, and uses both, hard, on my exposed bottom. It's soon covered in red welts, and the layered pleasure and pain, all at once, are too much to bear, and I swoon!
Much later, when the gathered guests have departed, I'm still bound and hooded, standing in my new master's sitting room. The electric butt plug is still inside me, and he enjoys playing with the different settings, making me scream and moan through the hood, unable to get away. He pulls me over his knee to experiment further with the opportunities for causing pain and arousal, all at once. How humiliating!
(this is the full video; I'll also be releasing part 1 and part 2 for people who only want one section of the story)
Amelia Jane Rutherford, Hywel Phillips
File Name : Snatched Mesmerised Bound Hooded & Made to Cum.mp4
File Size : 897.78 MB
Resolution : 1920×1080
Duration : 00:23:19
Video : AVC, 5 120 kb/s, 25.000 FPS
Audio : AAC, 256 kb/s (VBR), 44.1 kHz, 2 channels, 1 stream
http://95.215.205.103/217e1a959b5842d7/Snatched_Mesmerised_Bound_Hooded_&_Made_to_Cum.mp4