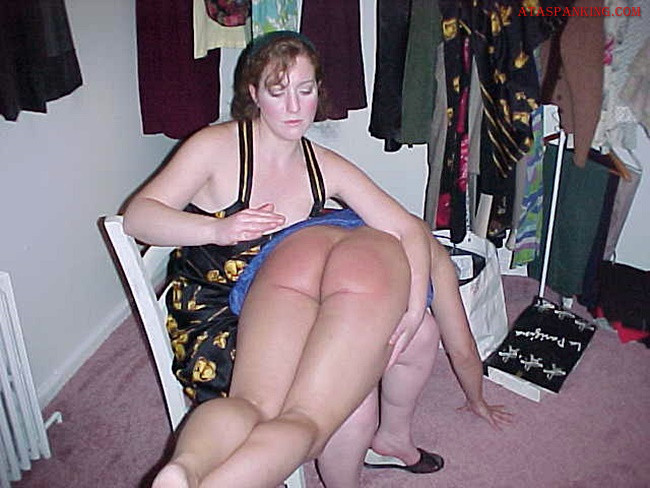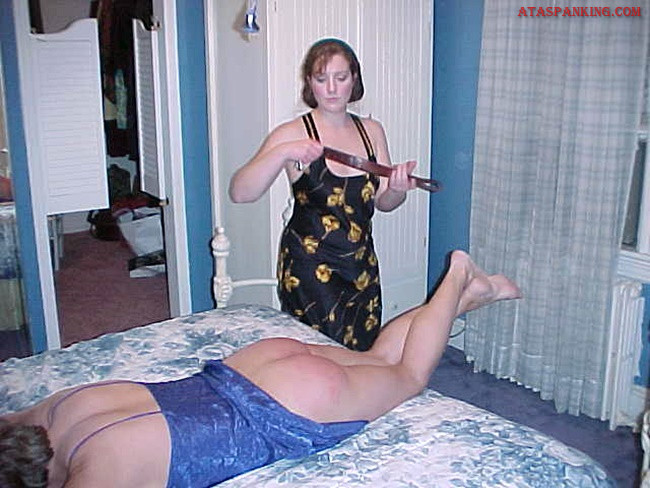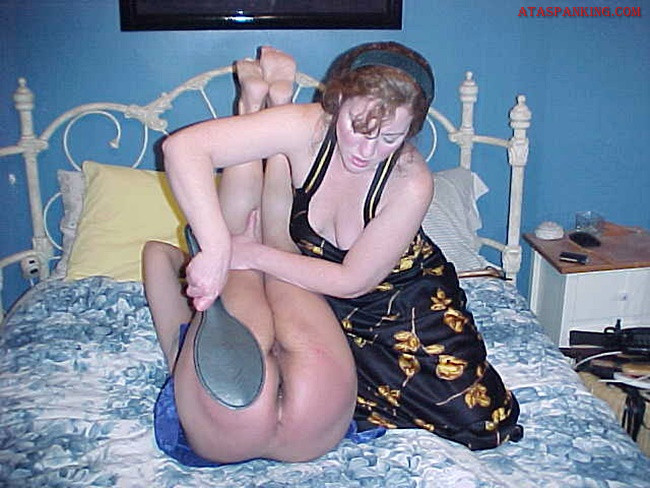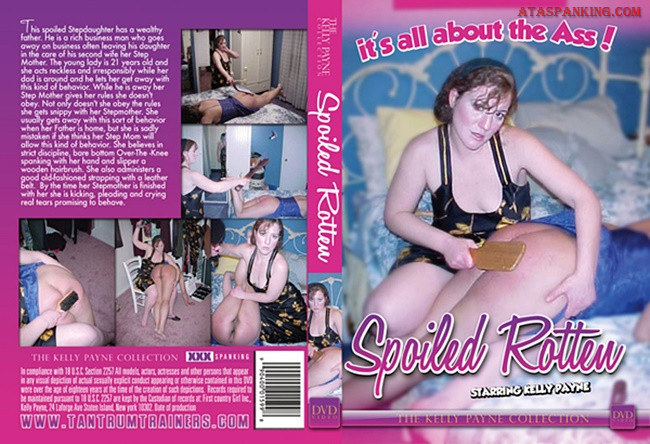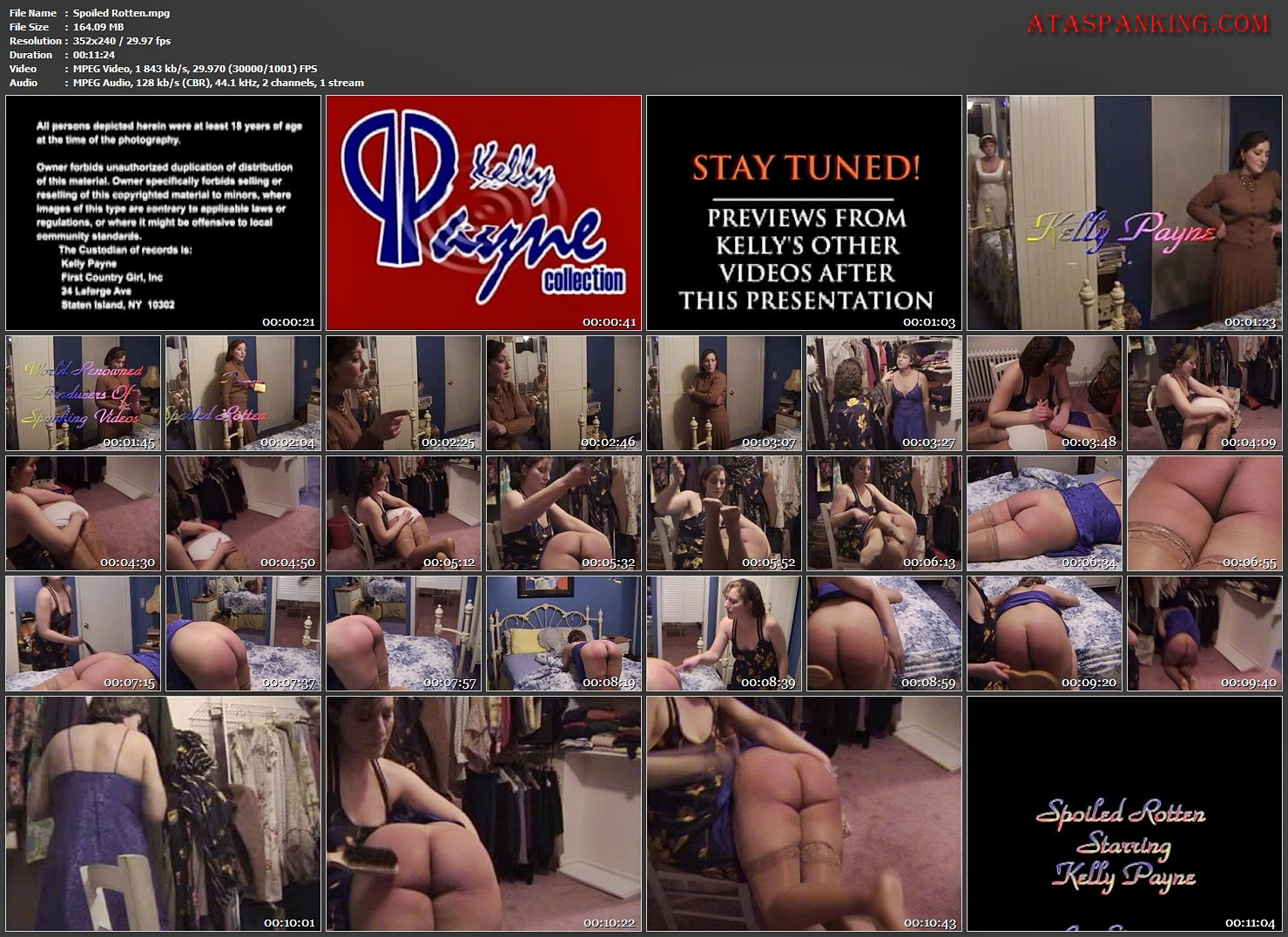 Domestic and at-home correction has obviously fallen off of the "to do" list. English femmedarme, Ms. Kelly is now dealing with another filthy, sniping, sass-talking little slut girl. She thinks she is too old for some good, old-fashioned discipline. That is about to change in this entry. Its time for stepmom to take charge and does she ever. She knows this is going to be extra-taxing so a change of attire is needed here. Soiling mom's dress and messing up her closet is the impetus for the ordeal.
What is exciting here is that the ladies are similar in appearance and age. White panties showing under her nightie as Ms. Kelly assumes the classic, otk pose and begins a rapid-fire flaming of her fanny. She has a big arse so plenty of room for Ms. Kelly to snap that bare hand on the target. Panties down to the cheeks and now the bare flesh becomes a quick pink. And then, making her remove her own panties, that is shame and back over the knee she goes. A supple, jiggling bum this one has. And now, the slipper. Slippers and shoes really blister the shanks.
Lots of rapid-fire attacks here. No wasted time or motion. The little step-bitch is still mouthing off so out comes the hairbrush. Alternating cheeks, one well-placed stinger to each side, very rhythmic and in step. And the leather strap. Bared to her maximum shame across the bed, she is going to be welted real good. What a nice, chunky can she has and is this bitch jumping now. Now, her mooned rump must jut skyward to really absorb the impact of the lash. Some great back-handed slashes from Ms. Kelly, relentless and methodical she is with her punishment to this tart. The sassy brat is crying now and her mouth is contrite as opposed to snotty.
That hole of hers looks pretty filthy, so maybe her choice of activities needs a good blistering too. Its wooden paddle time. And with gusto, the new implement is taken to her bottom. And another. She is really whimpering and the shame of being called a bad girl, furthers the excitement. Ordered to pick up dirty panties, that is a trip. An encore with the hairbrush, so for all you snotty little teasers out there, misbehave and Ms. Kelly will find you and the correction she has for you will be lasting indeed.
Archivos.Spanking.Club, Kelly Payne, Kelly Payne Collection, Private
File Name : Spoiled Rotten.mpg
File Size : 164.09 MB
Resolution : 352×240
Duration : 00:11:24
Video : MPEG Video, 1 843 kb/s, 29.970 (30000/1001) FPS
Audio : MPEG Audio, 128 kb/s (CBR), 44.1 kHz, 2 channels, 1 stream