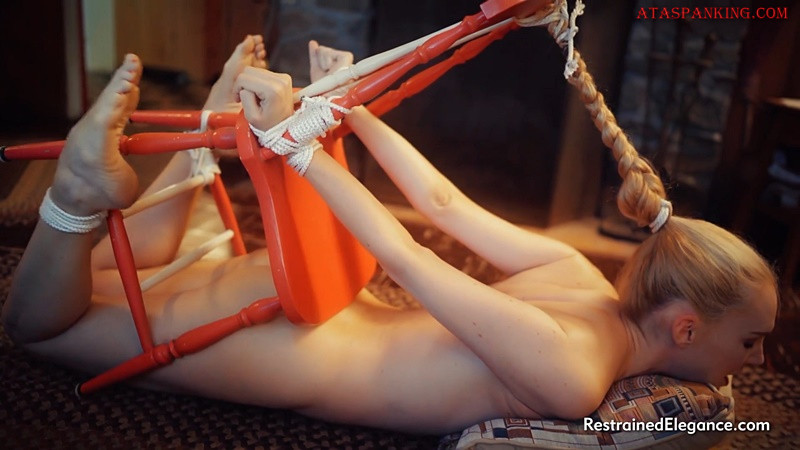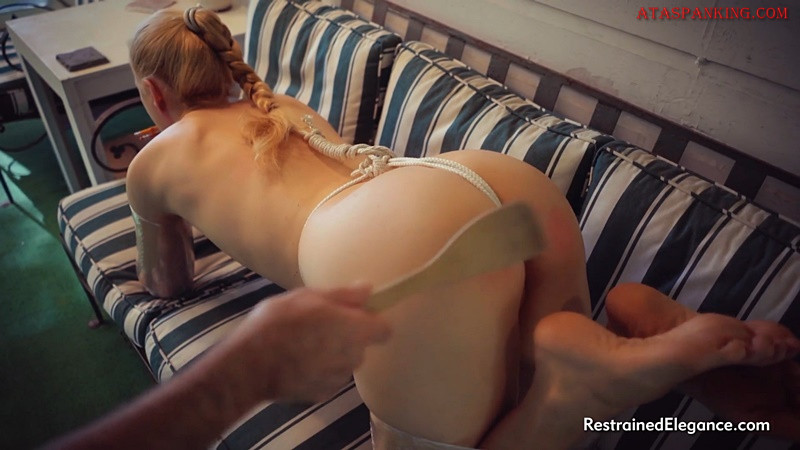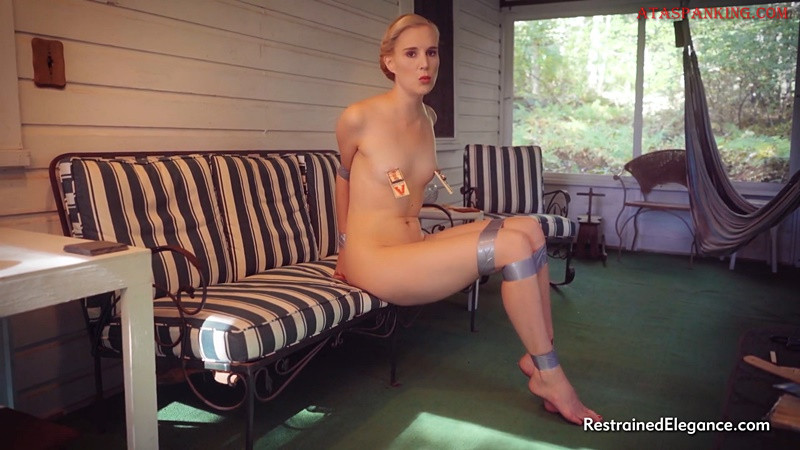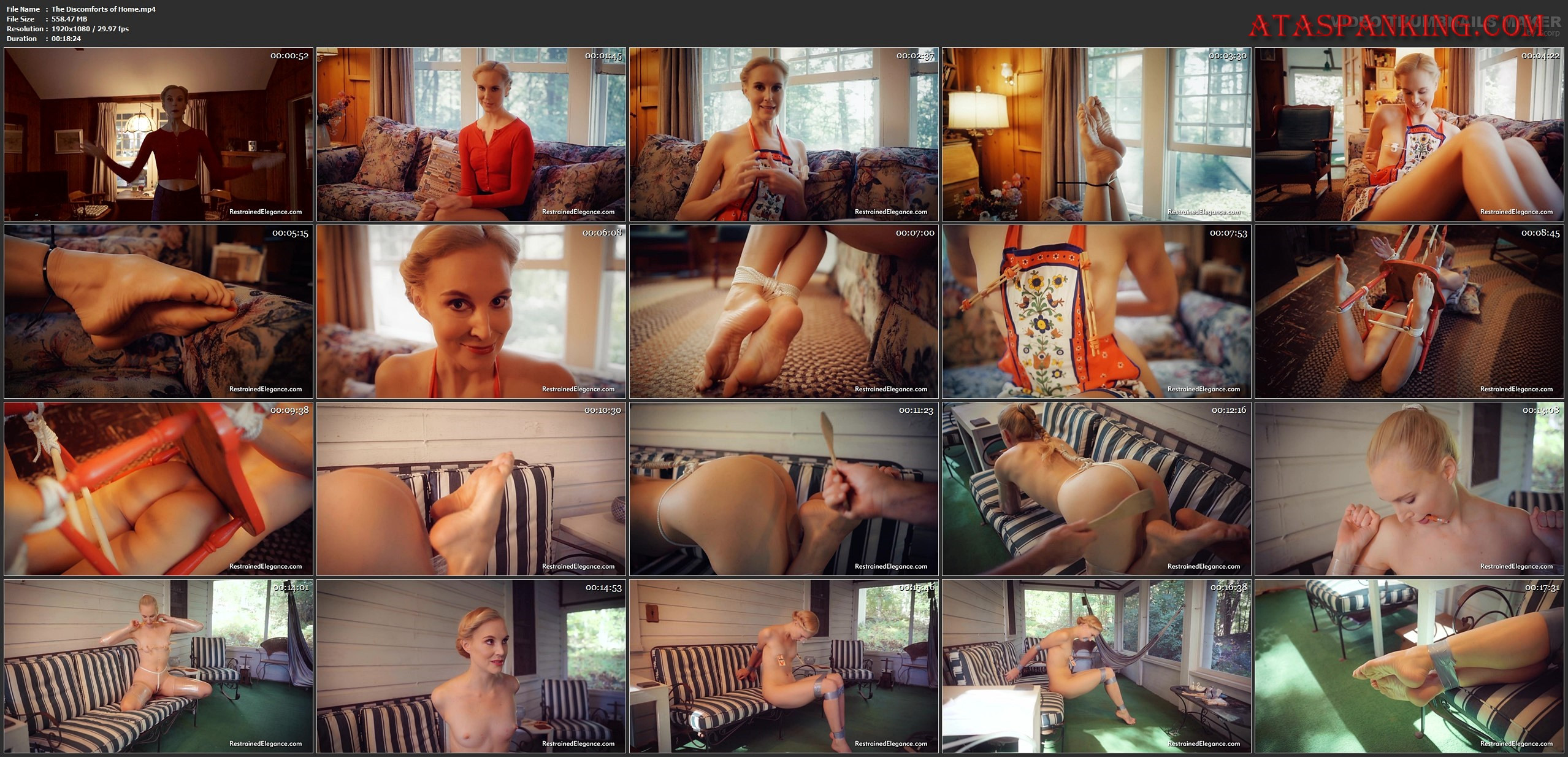 This is a film Ariel and I made with Busby Wilder at a cabin in the woods last year; Busby had kindly allowed us to share it with you!
This is how Busby describes the film:
High-strung hottie Ariel Anderssen loses it when she discovers her absent-minded husband has forgotten to bring the bondage bag along on their getaway weekend. But the clever lad does a quick rummage through their vacation rental and discovers some handy kinky substitutes. So, armed with a clamp clothes hanger, chopsticks, rubber bands, clothespins (or pegs in UK-speak), zip-ties, clothesline, duct tape, plastic wrap and mousetraps, the sadistic spouse macgyvers a BDSM fest that tests and teases and ultimately pleases his subby soulmate. Ariel, ever willing to play, doffs her blouse and skin tight short-shorts for a fetching maid's apron that covers her nether regions just barely and delightfully reveals her pert nipples. Which is a good thing since the clamp hanger is fastened right onto her sensitive breasts. After her wrists and ankles are fastened with zip-ties, the adorable blond dissolves into subspace as she moans and writhes sensually on the couch. Plenty of clamped nipples, curvaceous ass, wrinkled soles and pointed toes are on display. After an intense moment when hubby grabs the hanger to increase her pleasure, Ariel is pleasured even more as the hanger is swapped out for chopstick clamps with rubber bands. While the tit-torture turns the pain slut on, we watch long slow close-ups of her gum-drop areolas suffering and swollen in the stiff little wooden vices. And that's just the beginning.
Next on the program, Ariel, now completely naked, is face-down on the floor with a wooden chair tied onto her back. Her arms are pulled back behind her and her legs are lashed to the legs of the chair. Her long French braid is roped to the back of the chair pulling her head up and back to increase the discomfort. She breathes heavily and softly moans as the camera hungrily caresses every curve of her soft arched body.
But hubby is not through yet as Ariel now finds herself out on the porch with her legs and arms frog-wrapped in cling film. Her long braid is tied back to a crotch rope that pulls her head back increasing the stress of the position. As she wobbles and pants on her elbows and knees, her amazing bottom, legs and feet are on full display. There are even a few glimpses of her sweet, sweet pussy. Suddenly, the wooden spoon comes into play as hubby starts paddling her ass with it. She cries out from the pain so she is forced to clamp her tongue between two sharpened pencils held together with rubber bands. The spoon beating then continues until Ariel, still plastic wrapped and tongue clamped, is brought up on her knees and six clothes pins/pegs are forced onto her already tender, tortured breasts. She drools a bit as the agony of her situation engulfs her.
Ariel's final ordeal finds her duct taped at the ankles, the knees, the wrists and the elbows. When she dares to criticize the position as "not exactly extreme", her bondage boyfriend raises the stakes (and the pain) with mousetraps on her nipples. When she complains loudly that it's now too extreme, he silences her with a tape gag across her mouth. Ariel suffers beautifully, bound with tape and tortured by the devilish devices that rattle creepily as she moans and contorts in the grip of their nipple-crushing force. Who'da thunk you could have this much fetish fun with simple stuff lying all around the house?
(P.S. I wish I were capable of writing such excitingly-salacious prose to describe our videos! I'm quite good at filming this sort of thing, but when it comes to describing it in suitably-titillating, tempting terms to try to persuade people to buy it, I'm totally terrible!
Amelia Jane Rutherford, Hywel Phillips
File Name : The Discomforts of Home.mp4
File Size : 558.47 MB
Resolution : 1920×1080
Duration : 00:18:24
http://95.215.205.103/43a9b01f749a3bcf/The_Discomforts_of_Home.mp4