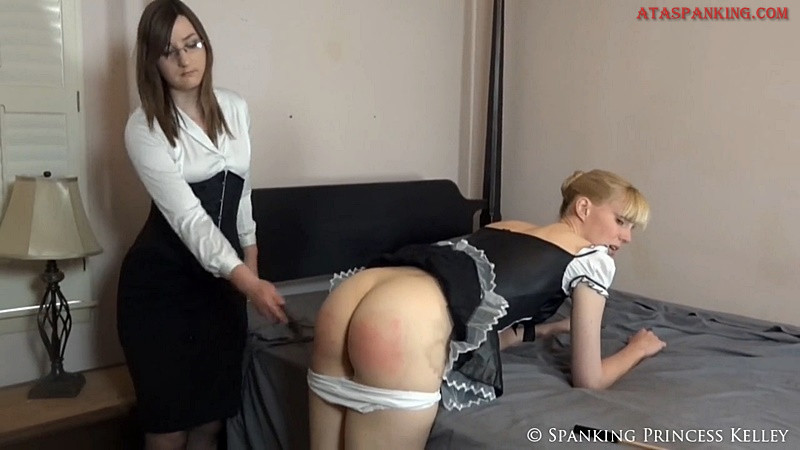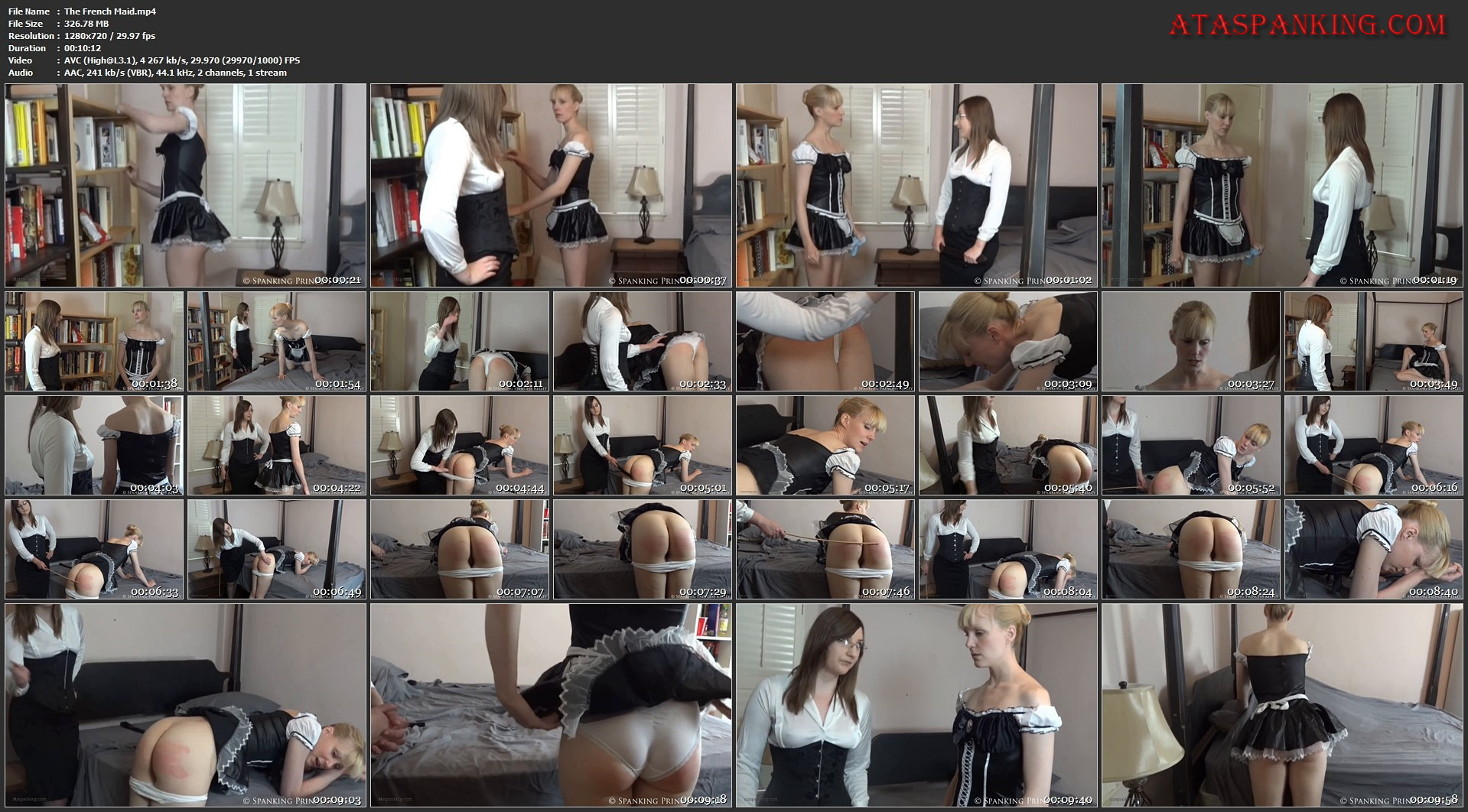 This classic French Maid stars Britain's two most popular and beautiful spanking stars, Amelia Jane Rutherford, as the submissive maid, and Pandora Blake, as the sadistic Mistress of the house. Unlike many of SPK Production's pieces, this scene has a more formal and austere tone to it. The punishment is unjust, and the mistress capricious and cold in her dishing out of punishment for perceived wrongdoings.
Pandora Blake is stunningly sexy as the cold and cruel Mistress who clearly takes pleasure in causing her staff pain. Her air is one of complete authority, and she fills the role with ease. Amelia Jane, beautiful as ever, contrasts much of her other work with SPK (which is often comic and bratty) with a turn for the more serious and submissive. You can see the poor innocent girl's wide eyed earnest confusion at her mistresses conflicting commands, and her yelps of pain feel so real you almost want to make it stop. Almost.
The setup is this: Amelia Jane is Mistress Blake's new maid, and is failing to meet the Mistress's high (and most likely impossible standards). She is to position herself in the humiliating posture on her knees with her bottom in the air and chest in the bed while the Mistress begins her punishment for an error in the placement of the spoon at dinner the night prior. The punishment continues as Pandora then moves her off the bed to bed over for a hard leather strapping, and finally a very hard traditional British caning on her bare bottom. Poor Amelia is humiliated by her Mistress (as she always is- in such a reveling outfit, and not even allowed shoes in the house) and made to submit to her punishment in order to keep her job. Only towards the end does it become clear to the viewer that Amelia has most likely performed no actual error, but rather the Mistress changes the rules to suit her desire to punish, and it is clear that poor Amelia will suffer another such indignity again soon.
When we filmed this scene, I told them the basics of what I wanted and asked them to just go for it, and they delivered. Both girls enjoy this type of unjust scene and truly seemed engrossed in their respective roles. While filming, I was tempted to cut for poor Amelia during the harsh caning, as her pleas became so heartfelt. And while editing I was so struck with her eyes and face at the end of the video that there are more stills of this clip than almost any other. They felt so honest and real to me- it is painfully beautiful. And oh so sexy.
Amelia Jane Rutherford, Pandora Blake
File Name : The French Maid.mp4
File Size : 326.78 MB
Resolution : 1280×720
Duration : 00:10:12
Video : AVC, 4 267 kb/s, 29.970 (29970/1000) FPS
Audio : AAC, 241 kb/s (VBR), 44.1 kHz, 2 channels, 1 stream