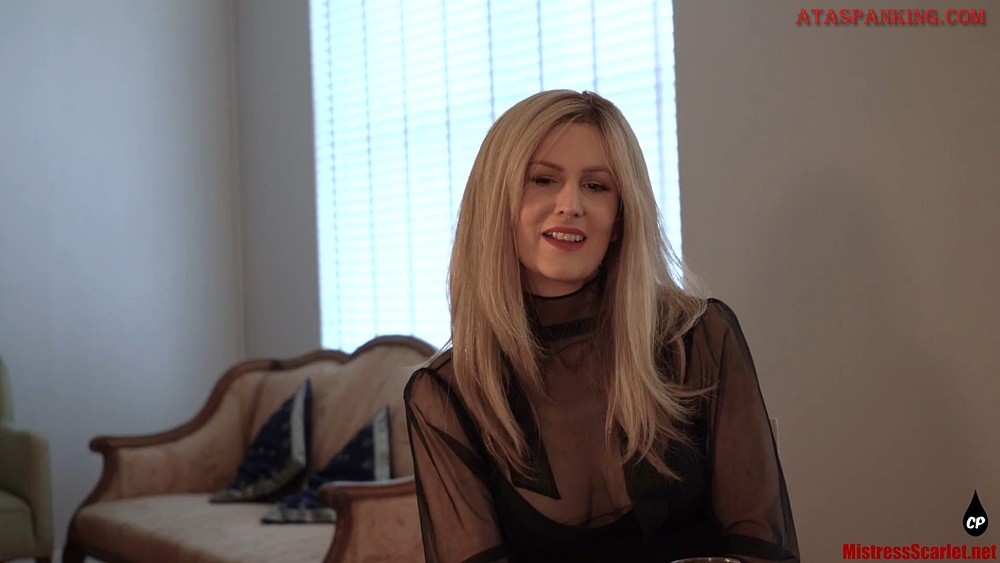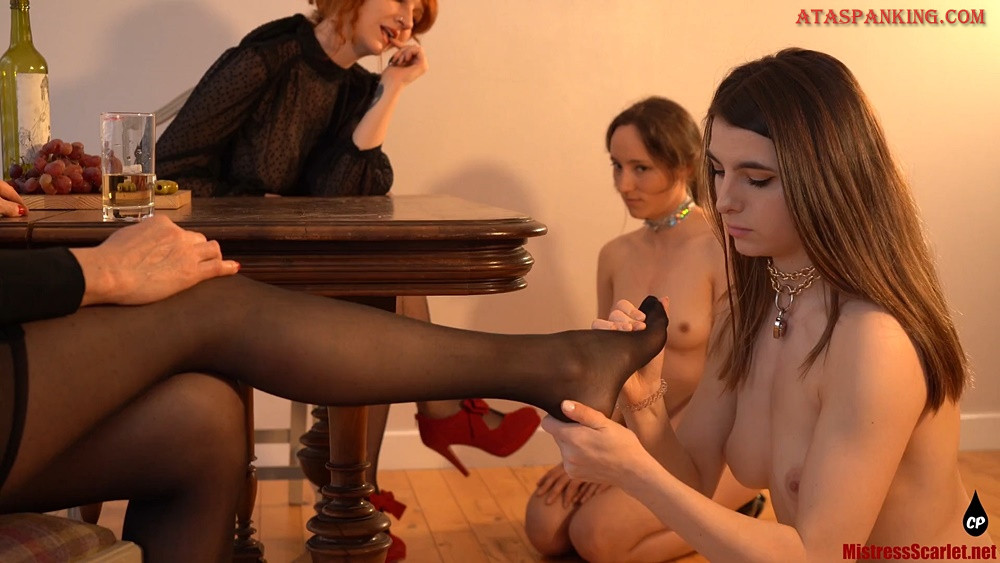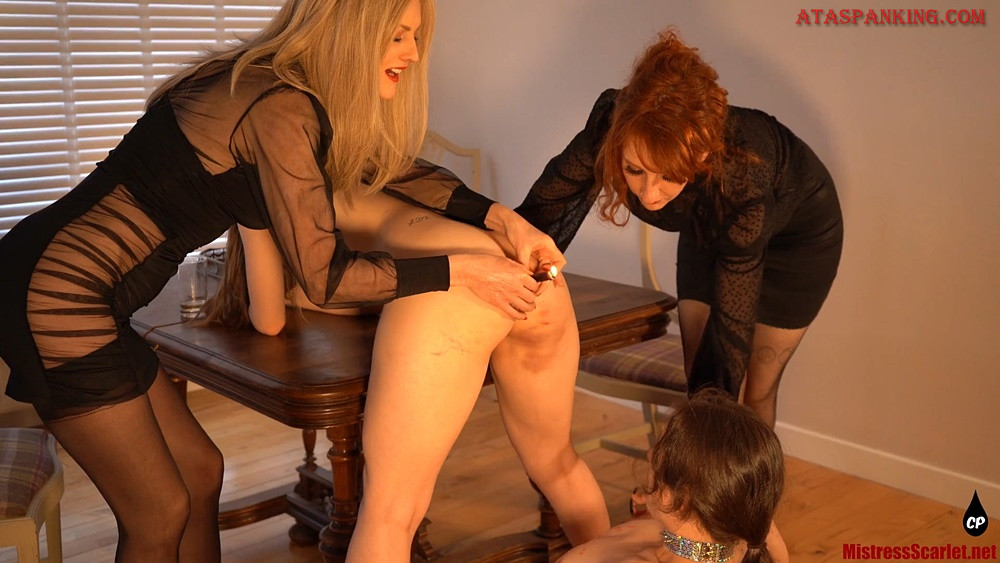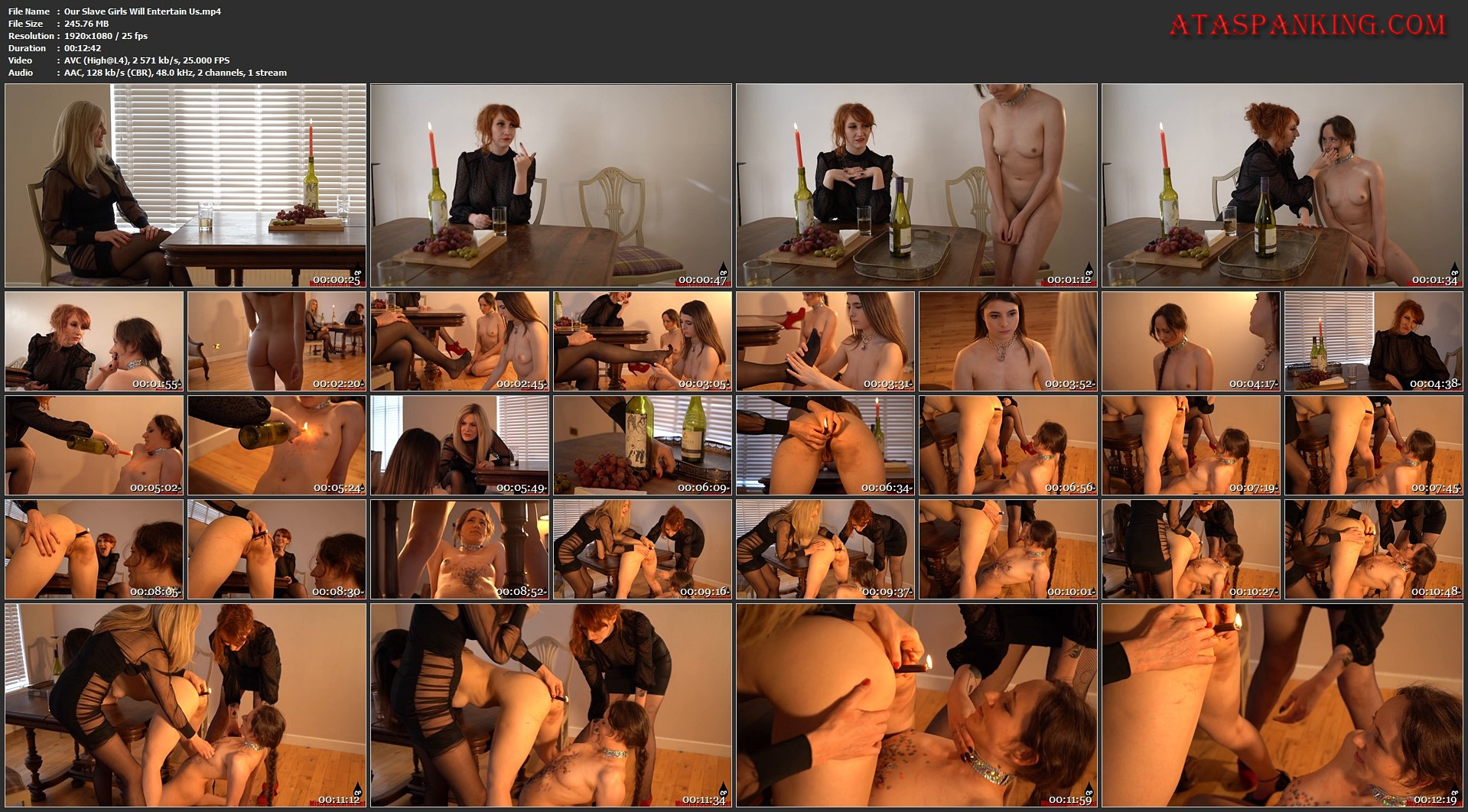 I am enjoying a glass of wine with Miss Roxy and our slave girls are serving us well.
Miss Roxy orders Mila to pour us some more wine but afterwards she makes the mistake of sitting down at the table with the Mistresses. Mila has forgotten that her place is at Miss Roxy's feet and slaves do not sit at the table. Miss Roxy throws Mila to the floor and spits on her face as she has embarrassed her.
I call my slave girl, Bella, over to my side to give me a foot massage. Bella obediently kneels at my feet and massages my stockinged feet. I tell her that she is being trained to make my life better, that is the purpose of being my slave girl. I explain that Mila has embarrassed her Mistress and that she must spit on her too, much to our amusement.
Miss Roxy tells Mila that there is a way that she can redeem herself for her previous misdemeanour, and she takes the candle from the table and dips the hot wax over Mila's naked body.
I tell Bella that she will demonstrate her love for me, her Mistress, and I instruct her to bend over the table. I light a new candle and insert it into Bella's ass. Mila is told to go underneath her friend and catch the hot was that is dripping from the candle in Bella's ass. Mila moans as the wax hits her naked body but she does not dare disappoint or embarrass her Mistress again.
We have transformed our slave girls into human candlesticks to entertain us.
Bella Bird, Mila Grant, Miss Roxy, Mistress Scarlet
File Name : Our Slave Girls Will Entertain Us.mp4
File Size : 245.76 MB
Resolution : 1920×1080
Duration : 00:12:42
Video : AVC, 2 571 kb/s, 25.000 FPS
Audio : AAC, 128 kb/s (CBR), 48.0 kHz, 2 channels, 1 stream
http://95.215.205.103/785f8ae0cb2231e9/Our_Slave_Girls_Will_Entertain_Us.mp4