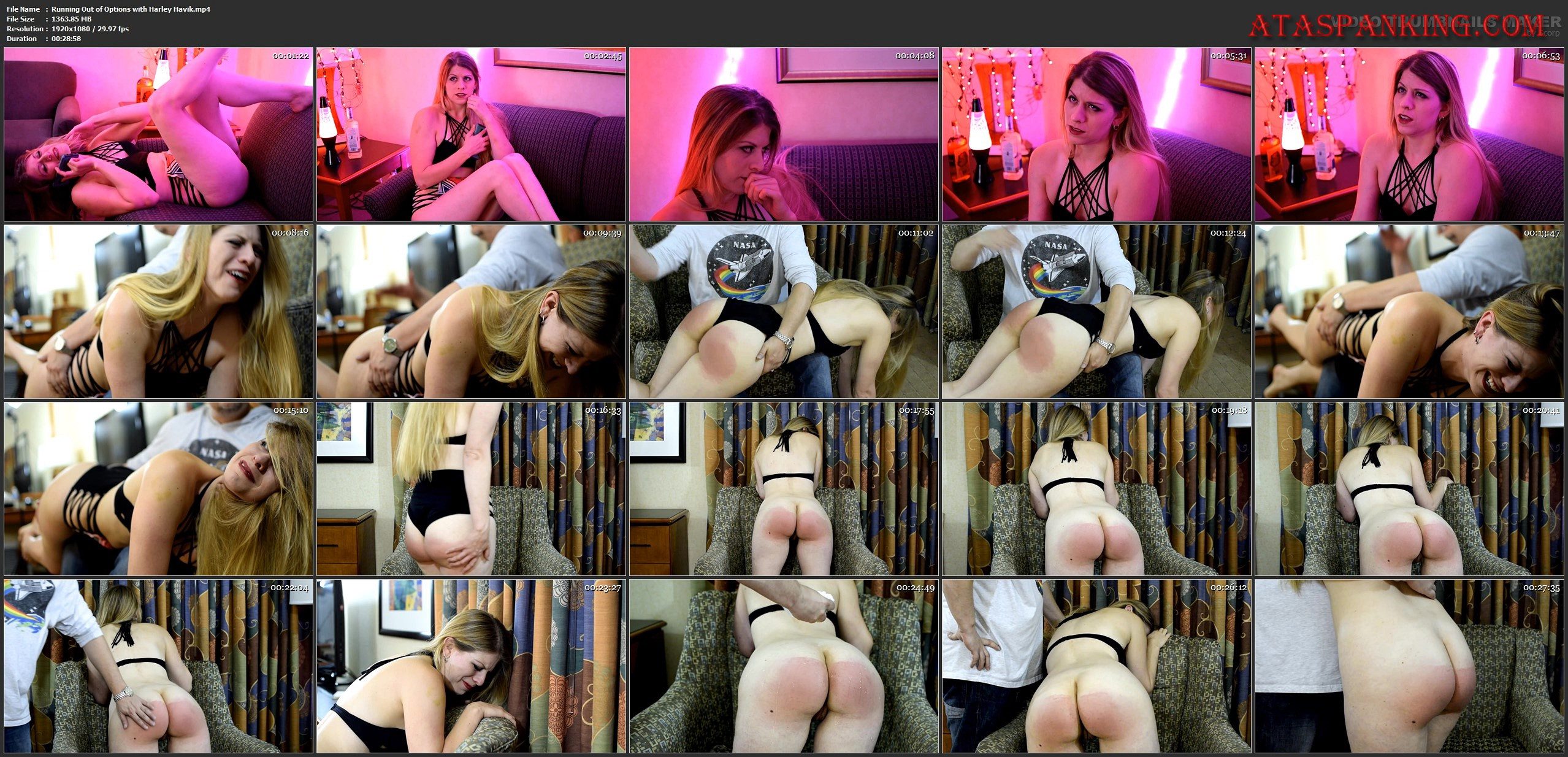 We have some news for you and it isn't good:( Towards the end of October, Sindy (Harley Havik) was left at home alone and instead of being responsible, she invited a few friend's over to party. Among those people, she invited a boy along and asked him to bring her party favors and proposed that they have sexual relations during the spontaneous party.
To the shock of Sindy, her Step-Father came home early due to forgetting a few things that he needed for work. He couldn't have been more upset as he'd been working long shifts and he felt a great disrespect from his step-daughter this time. Due to her recent infractions at school and getting in trouble around town he presented her with two options, she could walk out the door and leave home, or she could take the other door and go into the bedroom for some corporal punishment. She couldn't believe that those were the only two options for punishment that were given to her, but she didn't want to give up her cushy surroundings, so she slowly walked to the bedroom, knowing that she was going to be spanked for the first time in years!
Sindy immediately went over her Step-Dad's knee and he lit into her for a good long while. She was wearing a swimsuit, so her bottom wasn't covered very much at all. He smacked her behind good, giving her round bottom the stinging pain that it deserved, as he hoped that the intense heat and humiliation would encourage her to be better behaved! Her Step-Dad was certain that she'd been needing a spanking for awhile, so he decided to make this one count. She was planning on using the family pool to entertain her silly friends, so her Step-Dad chose to give her a very unique strapping,…he wet her bare cheeks with water (several times) and applied two different belts to her already sore butt as she knelt in a chair! Those belt strokes stung her naked behind and reminded her immediately of what punishment for her had felt like years before and why she had never wanted to get spanked again. Unfortunately for her, corporal punishment would become a regular part of her life, and she would be sitting with a sizzled rump more often than not from here on out.
File Name : Running Out of Options with Harley Havik.mp4
File Size : 1363.85 MB
Resolution : 1920×1080
Duration : 00:28:58
http://95.215.205.103/8d48bf410ccca53d/Running_Out_of_Options_with_Harley_Havik.mp4