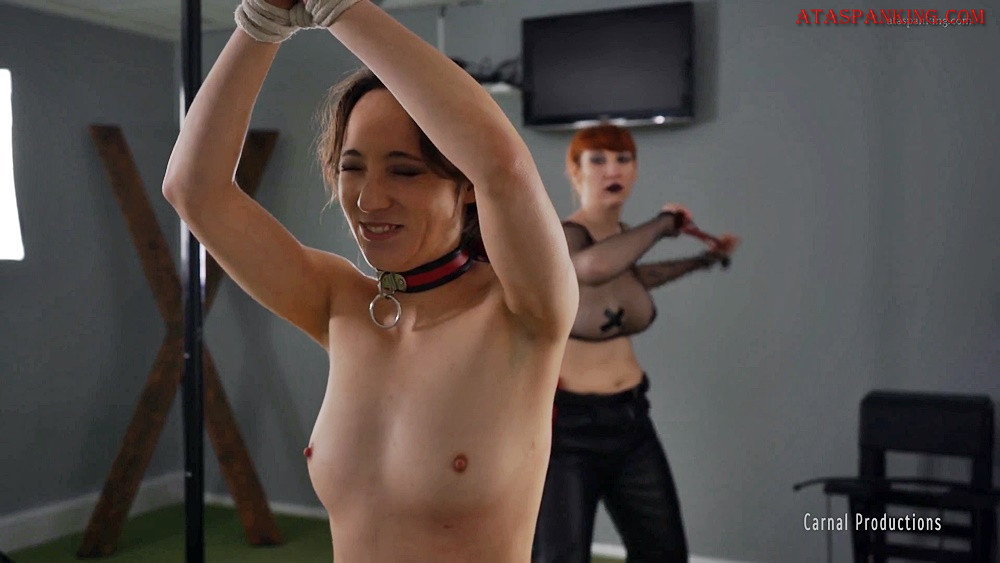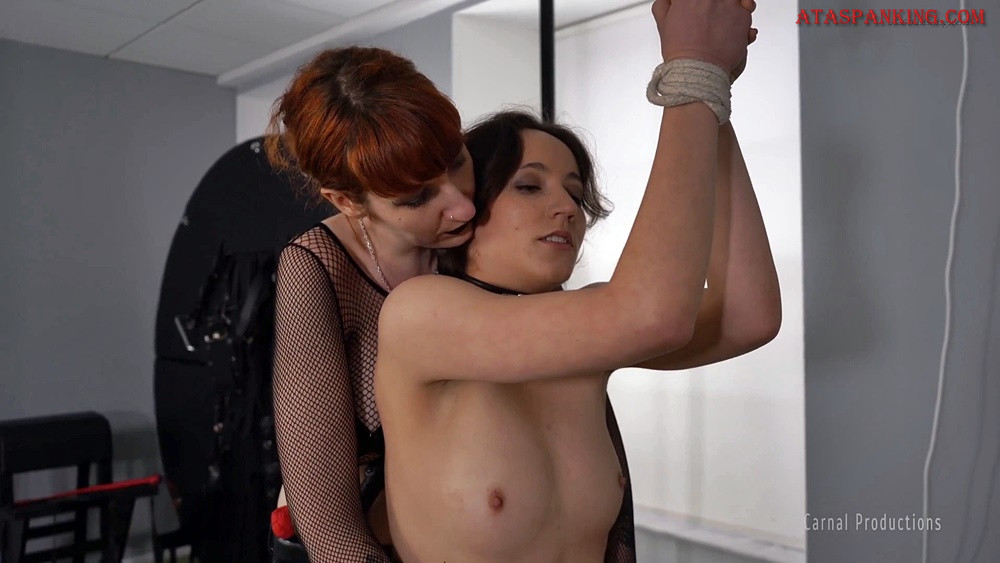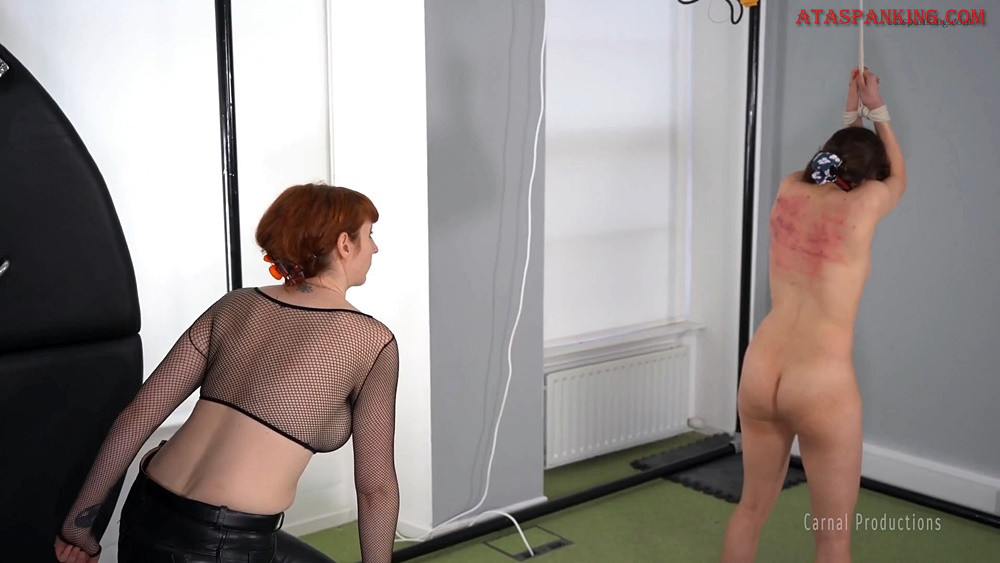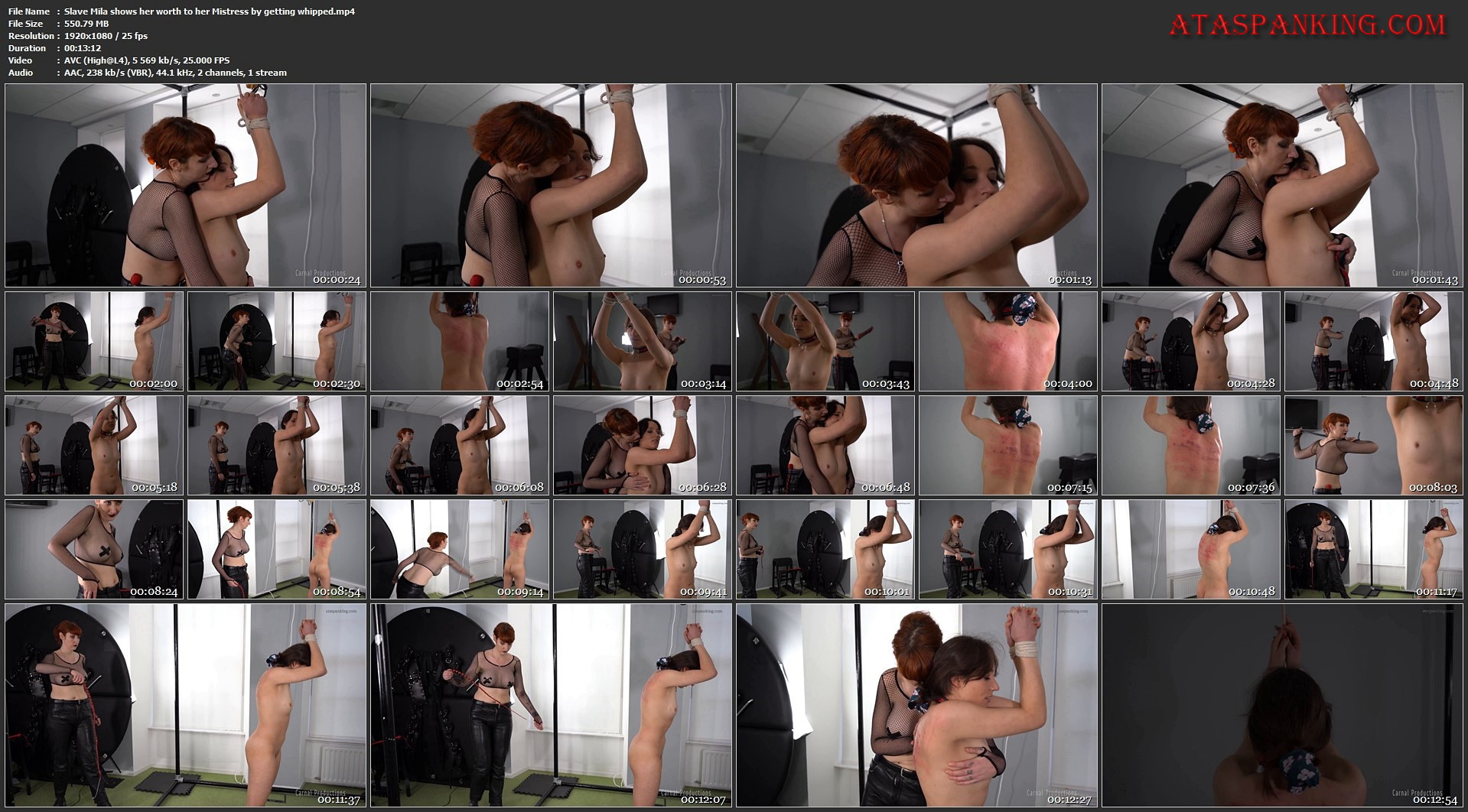 Slave Mila has asked her Mistress Roxy to whip her so that she can slow her worth to her as a Slave. Tied with her hand to the ceiling, Miss Roxy comes up from behind and teases her nipples while pulling the whip between her legs. She then steps back and raises her whip to deliver the first stroke. Mila tries to take as many hits as she can.
Miss Roxy uses three different whips, two of which Mila has used before. Miss Roxy doesn't start off lightly like she usually would and not long after the first few hits, moans start escaping Mila's lips. Whereas pain often makes her smile, this time it's a real challenge to hold out, but her devotion for her Mistress is strong.
When Miss Roxy picks up the whip that she calls her bastard whip (a whip with a small single ball at the end), Mila really starts to struggle and upon getting hit moves her body aside as she groans in pain. Miss Roxy comes up behind Mila again and sexually teases her. She decides that she has to give Mila recovery time, and tells her that when she's ready she will say "Please, whip me, Mistress." Every time Mila thinks it has become too much, she manages to step back up, straighten her back and take another hit. Finally, Mila looks over her shoulder with tears in her eyes and asks Miss Roxy to please whip her with her most painful whip, the snake whip. It's a whip Mila has never used before.
Mila tries to make her mind go blank as she feels the sharp sting of the snake whip land on her back. She wonders how much longer she can hold out for while her Mistress smiles for every new hit she takes. While Mila struggles with the pain, she feels happy for taking this for her Mistress. It is a true act of devotion.
File Name : Slave Mila shows her worth to her Mistress by getting whipped.mp4
File Size : 550.79 MB
Resolution : 1920×1080
Duration : 00:13:12
Video : AVC, 5 569 kb/s, 25.000 FPS
Audio : AAC, 238 kb/s (VBR), 44.1 kHz, 2 channels, 1 stream
http://95.215.205.103/df4df90e921d473a/Slave_Mila_shows_her_worth_to_her_Mistress_by_getting_whipped.mp4