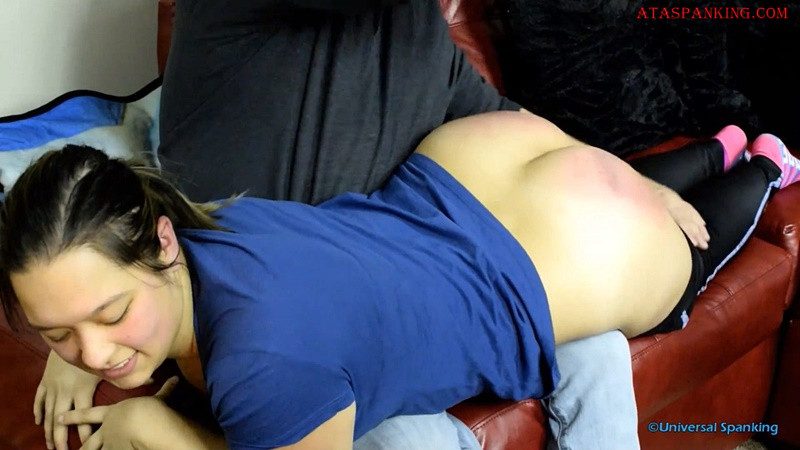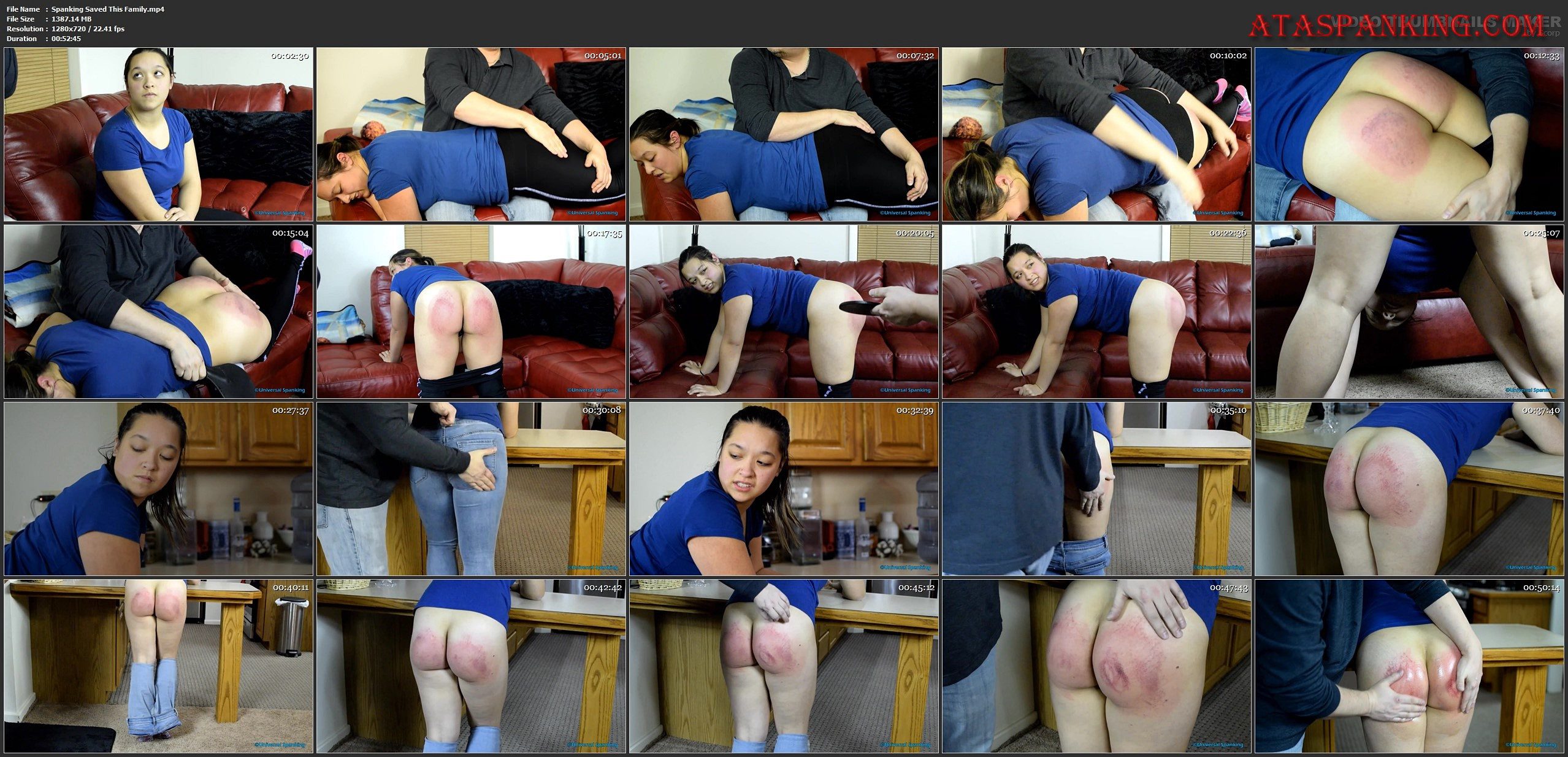 Lilo Lovich is in big trouble! She smacked her former best friend Sally in the face with a dodge ball at school, and now the girl's father is threatening to sue the family of Lilo. Lilo's Dad is furious about the idea of being sued, though he is given an option to get the family out of the big mess, …Sally's father promises not to sue as long as Lilo is punished punished with a spanking for what she did. What at first seems outrageous starts to make sense to Lilo's Dad as he remembers that she hasn't been spanked in a long while, and due to recent bad behavior she obviously needs some bare bottomed attention.
Lilo is taken to the family room and presented with her options, half heartedly she chooses the spanking over some of the other punishment options that her Dad offers. She's first taken OTK and spanked over her yoga pants, then those come down so her bottom can feel more of the sting that she has earned by failing to be a better girl. Lilo's panties are slowly pulled down next as her embarrassment grows, though much of her attention becomes focused on the repeated painful smacks that land upon her glowing red behind. Things get even worse for Lilo when a stiff leather paddle is sharply applied to her round, yet glowing bottom as she lays over her Daddy's knees!
Lilo is then stood up and instructed to take her pants completely off. Her dad wants to be sure that Lilo not only feels the uncomfortable and burning sensations that a spanking can deliver, but he wants her to feel the humiliation of having to stick her bottom out for corporal punishment there in the family room so that she'll hopefully learn a valuable lesson or two about fighting and making good decisions. The final part of the spanking punishment for Lilo has her bending over even further for licks with the traditional leather belt! Lilo never wanted to feel the painful effects of the Daddy's belt ever again, but here she was taking that darned well worn belt that her Dad wore to work every day. It's safe to say that the bare bottom of Lilo was sore and swollen, let's just hope that she's on better behavior for the sake of her swollen behind.
Lilo was always the good student and rarely ever found herself in trouble. Sure, every once in awhile she would need a quick refresher course and a simple spanking or grounding would do the trick. However, Lilo had begun to show no remorse when it came to fighting with a former friend, with that situation almost getting the family into a lawsuit! Shortly after having to take a thorough spanking from her Father, Lilo gets into another fight with the same girl and this time Daddy has had enough and decides that stricter, more severe corporal punishment is in order!
Lilo is first bent over the kitchen counter where she's spanked over her tight jeans. Her bottom was still sore from her previous spanking for fighting, but her Father wasn't concerned about that at all, he wanted this punishment to have a lasting effect and to genuinely hurt her sassy bottom. Soon her jeans were pulled down and to her Dad's disappointment, she wasn't even wearing any panties, so he did what he knew he had to do and continued spanking her on the bare. Next, she was given licks with a disciplinary strap, he wasn't taking any chances on his girl not learning a lesson, not under his watch. When Lilo didn't seem remorseful enough, the riding crop was brought out and applied to her naked buns, it was at this time that Lilo began to regret the fighting and the sass to her Father.
The punishment ended with Lilo taking her first paddling. Her Father never had to bring out the board before, but he was more than willing to do what he had to do to correct this young lady. Sure, he knew what he had to do and was certainly going to finish the task, but it was still his little girl that he was inflicting punishment upon, and giving the swats pulled at his heart. When all was said and done Lilo was indeed sorry and unable to sit comfortably for days, as for her Father, he was glad that he stuck to his game plan and went through with the punishment. By bending Lilo over and taking the time to provide correction, her Father made the changes in her life that would keep her out of trouble for a good long while, thus saving the family and Lilo from the future problems that an errant girl can cause.
Spanking Saved This Family – The Complete Movie (Parts 1 & 2)
File Name : Spanking Saved This Family.mp4
File Size : 1387.14 MB
Resolution : 1280×720
Duration : 00:52:45
http://95.215.205.103/e3faafdb8acb852d/Spanking_Saved_This_Family.mp4