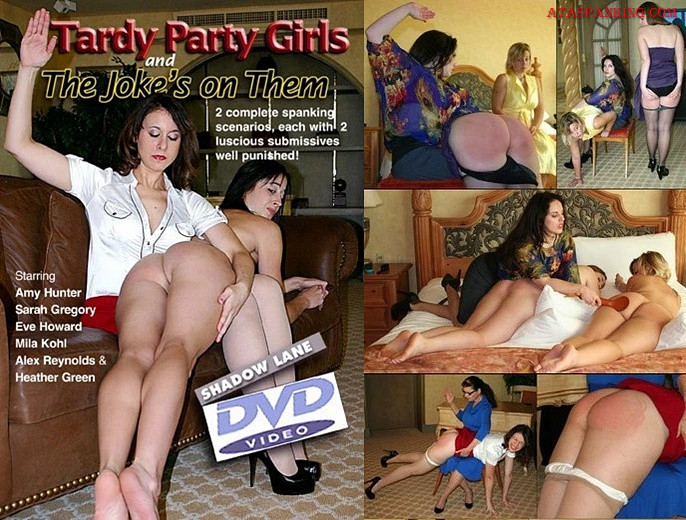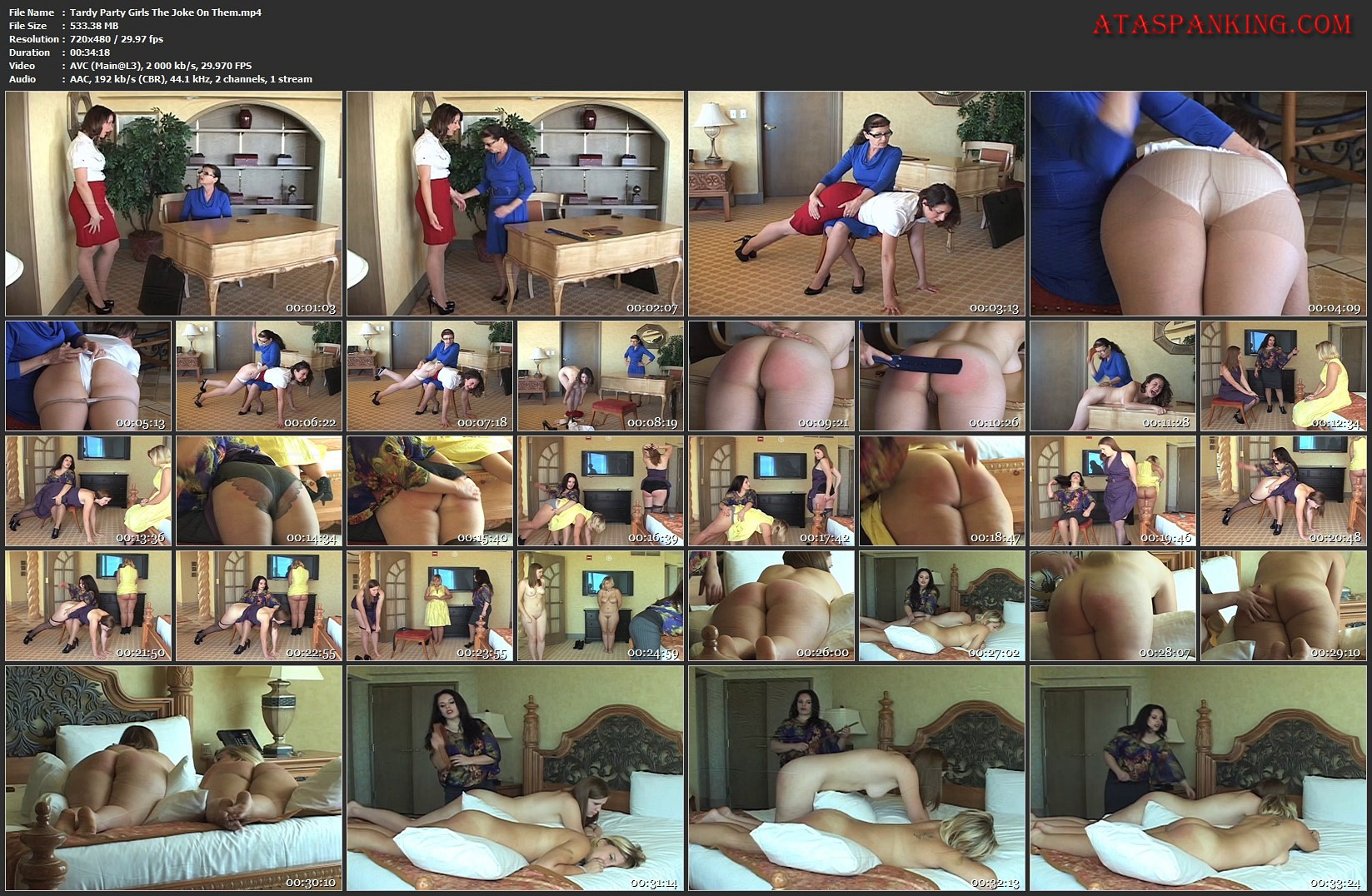 In "Tardy Party Girls" brilliant and magnetic British dominant Amy Hunter promises to take Alex and Mila shopping on the Vegas strip during the Shadow Lane party weekend, but instead of meeting that charming lady on time, the girls keep Miss Hunter waiting for hours. Furious, the petite dynamo takes both inconsiderate brats over her lap for a smart hand spanking. Then she orders them to strip nude, get up on the bed and present their pink bottoms for a proper hairbrush paddling and heavy leather strapping apiece. The adorably embarrassed spankees get the thrashing of their lives from the strict Miss Hunter as she scolds them into a state of complete contrition.
Voluptuous and fiercely real Mila and Alex are both endearingly submissive yet satisfying reactive to the vigorous corporal punishment Amy so ably administers to them. Features: hand spanking, hairbrush spanking, over the knee spanking, double nude girl spanking on bed, strapping on bed, pantyhose spanking, panty spanking, bare bottom spanking, scolding & nude girls on a bed comparing spanked bottoms.
During a Shadow Lane party weekend, Eve learns that two of her favorite models have been in the hotel's suites making dumb blonde jokes in front of other guests. Unwilling to have any of her guests insulted, Eve summons Sarah to account for the rude behavior and unsatisfied with her replies, proceeds to spank the pretty offender's bare bottom. Eve tells Sarah to remove every stitch and bends the shapely beauty over her desk. Eve continues to discipline the arrogant brunette with a leather strap across the twenty six year olds perfect backside.
After Sarah's punishment, Eve orders Sarah to bring Heather to her. In Sarah's presence, Eve spanks Heather for participating in the blonde joke debacle with hand and leather paddle. Then, bidding Heather to strip naked, Eve allows Sarah assist in the punishment of the lissome 22 year old. Sarah hand spanks the beautiful nude Heather and also gives her an ample taste of well seasoned leather before Eve is satisfied that the lithe brunette has learned her lesson. In this corporal punishment drama, Sarah Gregory reveals both the top and bottom sides of her personality along with her stunningly shapely body, while the slender and winsome Heather Green is a dream submissive out of a book.
Every person in this video has been a spanking enthusiast since childhood. It does make a difference! Features: Woman spanks girl, girl spanks girl, over the knee spanking on skirts, pantyhose, panties and bare bottom, fully nude over the knee spanking, fully nude bent over strapping, leather paddling, scolding and double topping.
Alex Reynolds, Amy Hunter, Eve Howard, Heather Green, Mila Kohl, Sarah Gregory
File Name : Tardy Party Girls The Joke On Them.mp4
File Size : 533.38 MB
Resolution : 720×480
Duration : 00:34:18
Video : AVC, 2 000 kb/s, 29.970 FPS
Audio : AAC, 192 kb/s (CBR), 44.1 kHz, 2 channels, 1 stream
http://95.215.205.103/1ed0916f7eec6506/Tardy_Party_Girls_The_Joke_On_Them.mp4